The Royal Society of Chemistry's RSC Publishing division recently ran an annual photograph competition with the theme 'Science in the Library'.  The competition prize was that the winning photograph would be placed on the front cover of the 2012 RSC Publishing Catalogue and was voted for by over 115 RSC staff and the RSC Library Advisory Board.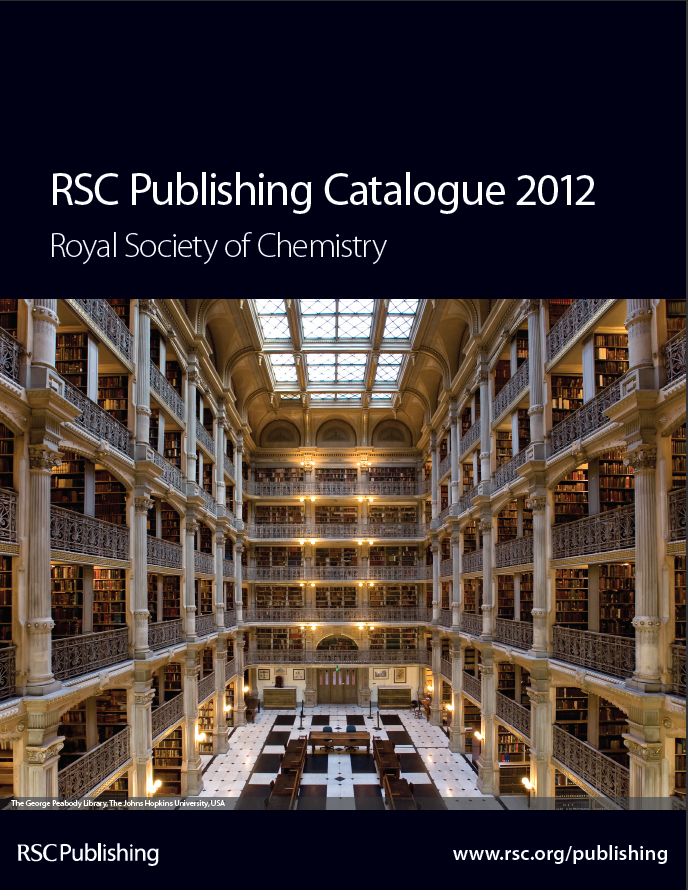 Congratulations to the winner
Steve Stich, from the Sheridan Libraries, of the Johns Hopkins University, USA
who entered the picture of the George Peabody Library, Baltimore, Maryland, USA, taken by Norm Barker
To see the fabulous George Peabody Library, please review the front cover of the RSC Publishing Catalogue. 
You will also find all of the entries for the competition on pages 2-5.
Download your PDF copy of the 2012 RSC Publishing Catalogue
What does Jeremy say about our RSC Publishing resources?

Jeremy Garritano
Chemical Information Specialist and Associate Professor of Library Science
Purdue University, USA
"Having the RSC Gold package not only allows students and researchers access to the discoveries of today, but also to nearly 170 years of exploration in the chemical and related sciences. With a dedicated set of core chemistry-oriented journals and newer titles devoted to cutting-edge, interdisciplinary areas, the RSC Gold collection will assist in achieving the discoveries of tomorrow."
For more information on RSC Gold
GO TO www.rsc.org/gold
EMAIL sales@rsc.org
2012 RSC Publishing Catalogue Highlights
The 2012 RSC Publishing Catalogue includes detailed information about RSC Publishing resources for your needs as well as key contact details.  Download your PDF copy of the 2012 RSC Publishing Catalogue  
Keep up-to-date with RSC Notes – our quarterly librarian and information specialist newsletter 
Highlights from the catalogue include:
NEW RSC Library Tool Kit – increase usage of your resources – page 37
Subject categorisation for RSC Publishing resources:
Analytical
Biological
Catalysis
Chemical Biology and Medicinal
Energy
Environmental
Food
General Chemistry
Inorganic
Materials
Nanoscience
Organic
Physical
ChemSpider – RSC's FREE chemical structure database – page 34
Mass Spectrometry Bulletin – print database discontinued at the end of 2011, any queries? 
EMAIL sales@rsc.org
NEW journals available for FREE access in 2012 for the first two volumes
NEW journals now available for subscription in 2012
RSC Journals Archive – now with additional content for a more complete collection spanning 166 years (1841 – 2007) – page 29
83% of our journals have an impact factor over 3 – download About Our Journals for more information
Journal Issue Changes
Over the last few years, we have seen 150% growth in content. In 2011, we're on track to publish 20,000 articles with contributions from over 70 countries with significant growth from USA, China, Germany, Japan, France and Spain.  With all the additional quality international content, some journal issues have changed.
| | | |
| --- | --- | --- |
| Journal | 2011 Issue Number | 2012 Issue Number |
| Chemical Communications | 48 | 100 |
| Chemical Society Reviews | 12 | 24 |
| Nanoscale | 12 | 24 |
| Organic & Biomolecular Chemistry | 24 | 48 |
| Soft Matter | 24 | 48 |
More Information
For more information on RSC Publishing resources, please contact your RSC Account Manager or your local subscription agent and we will happily help.
EMAIL sales@rsc.org