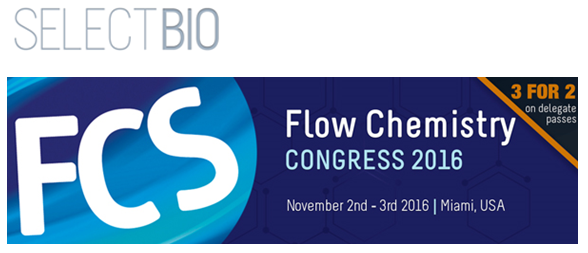 Book today and save up to $100
At Flow Chemistry Congress 2016, experts both from academia and industry will discuss chemical synthesis in flow. This will include emerging techniques such as electro- and photochemistry, the development of multi-step synthesis, and applications in pharmaceutical manufacturing.
Attending this event will provide you with excellent opportunities for networking with chemists and engineers, from both industrial and academic backgrounds, sharing knowledge, helping you to find solutions and build collaborations.
Agenda Topics Include:
•           Analytical Techniques
•           Devices and Engineering in Flow Chemistry
•           Electrochemistry
•           Multistep Synthesis in Flow
•           Pharmaceutical Process and Manufacturing
•           Photochemistry
•           Polymer Synthesis
•           Utilizing Highly Reactive and/or Hazardous Reactants
Bursaries:
SELECTBIO is offering a limited number of student bursaries for this event. Find out more.
Book Now and Save!
Register before 20th September and save up to $100 with our Early Bird discount. Looking for multiple passes? We also offering 3 for 2 on all delegate passes.
View the Agenda here:
http://selectbiosciences.com/conferences/agenda.aspx?pid=4616&conf=FCC2016
Register here:
http://selectbiosciences.com/conferences/registration.aspx?conf=FCC2016
For further information please do not hesitate to contact us directly.
Delegate Sales Team
Email: delegatesales@selectbio.com
Telephone: +44 (0) 1787 315110