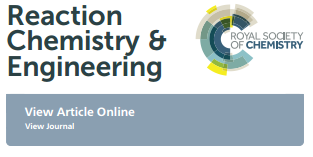 The first Reaction Chemistry & Engineering Advance Articles are now published!
A big thank you to all our board members, authors, referees and others that have worked hard to make this possible.
Read on for a taster of what's available, and take some time to explore our content. Articles will now be published online as soon as they are ready – the best way to keep up to date with the latest work is to subscribe to our RSS feed or sign-up to email alerts. Don't forget, the first two volumes of Reaction Chemistry & Engineering are free-to-access for everyone.
A selection of our very first articles: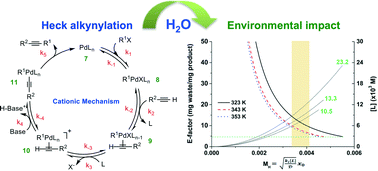 "Influence of water on the deprotonation and the ionic mechanisms of a Heck alkynylation and its resultant E-factors" by Chuntian Hu, Kevin H. Shaughnessy and Ryan L. Hartman
This paper presents a comprehensive investigation into the influence of water on the cationic and anionic derivatives of the deprotonation mechanism of a Heck alkynylation, including evaluation of kinetic parameters, DFT free energy calculations and E-factor analysis in batch and continuous flow. The study increases understanding of how chemical waste generated during Heck alkynylations can be minimised.
---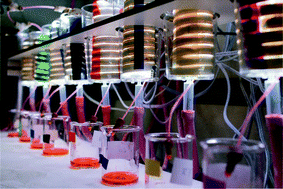 "A convenient numbering-up strategy for the scale-up of gas–liquid photoredox catalysis in flow" by Yuanhai Su, Koen Kuijpers, Volker Hessel and Timothy Noël
This paper presents a modular photocatalytic flow reactor system and its application to the scale-up of the aerobic oxidation of thiols to disulfides, showing a good flow distribution and a yield comparable to a single device. The assembly is made up of only commercially available parts and can be quickly put together by anyone familiar with flow chemistry.
---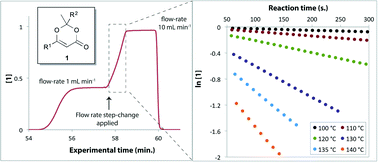 "Thermolysis of 1,3-dioxin-4-ones: fast generation of kinetic data using in-line analysis under flow" by Thomas Durand, Cyril Henry, David Bolien, David C. Harrowven, Sally Bloodworth, Xavier Franck and Richard J. Whitby
This paper uses a commercial flow reactor with stepped flow rate for rapid acquisition of kinetic data for the thermolysis of 1,3-dioxin-4-ones. UV and IR provide in-line reaction analysis and kinetic information is extracted from the resulting spectra. The methods developed are widely applicable for reaction study and process development.
We hope you find these articles of interest, don't forget to check out all the latest content here.