As a joint venture between the chemistry communities of China and the UK, Materials Chemistry Frontiers strives to report the best research from China and rest of the world to international audiences.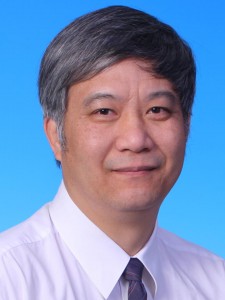 Board members of the journal regularly select and feature their favourite MCF articles that represent research the members see as possessing exceptional novelty and a potential impact to the development of the field.
This month, Editor-in-Chief Ben Zhong Tang has picked his choice articles from those published in Materials Chemistry Frontiers before December 2016.
All these papers are now FREE to read.

@MaterChem on Twitter to tell us how you think about them.
---
Monolithic hierarchical gold sponges for efficient and stable catalysis in a continuous-flow microreactor
You Yu*, Wenqing Xiao, Tongtong Zhou, Ping Zhang, Casey Yan and Zijian Zheng*
DOI: 10.1039/C6QM00115G
First published online 23 Aug 2016
Editor's comments:
It is highly desirable to fabricate metallic materials with large surface area-to-volume ratios by simple procedures. Y. Yu, Z. Zheng and coworkers at Northwest University and Hong Kong Polytechnic University (both in China) developed an air-compatible and moisture-tolerant solution process for the preparation of free-standing monolithic gold sponges through a polymer-assisted metal deposition approach. The Au sponges showed ultrahigh catalytic efficiency for the reduction of 4-nitrophenol even after 100 times of repeated use. The researchers also developed a continuous-flow system made of the Au sponges, which enabled separation-free, continuous catalytic reduction of flow-in liquid chemicals.
---
Flexible assembly of targeting agents on porous magnetic nano-cargos by inclusion complexation for accurate drug delivery
Dian Li, Luyan Sun, Yuting Zhang, Meng Yu, Jia Guo and Changchun Wang*
DOI: 10.1039/C6QM00049E
First published online 07 Sep 2016
Editor's Comments: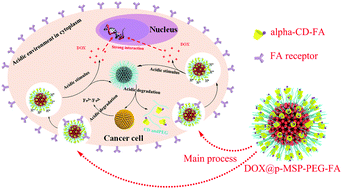 Development of effective systems for accurate drug delivery is in great demand. C. Wang and collaborators at Fudan University (Shanghai) and Technical Center of China Tobacco Guangxi Industrial Co., Ltd. (Nanning) developed magnetic nano-cargos for controlled drug delivery. The Chinese researchers fixed anticancer drug doxorubicin (DOX) onto porous magnetic cores by acid-susceptible linkers, which can be broken in intracellular environments or organelles. The superficial poly(ethylene glycol) (PEG) chains on the magnetic cores enhanced the dispersion of the nano-cargos and the immobilized folate (FA)-modified a-cyclodextrin (CD) by inclusion complexation, and the α-CD derivatives could be flexibly replaced as needed. With efficient pH-responsive drug release, this drug delivery system inhibited the proliferation of cancer (HeLa) cells, while imposing little cytotoxicity on normal (HEK 293T) cells. The synergistic interplay of the targeting and pH-controlled drug release capabilities of the nano-cargos has great potential in cancer chemotherapy with personalized and accurate treatment.
---
Triphenylamine-based donor–π–acceptor organic phosphors: synthesis, characterization and theoretical study
Aravind Babu Kajjam, Santanb Giri and Sivakumar V.*
DOI: 10.1039/C6QM00031B
First published online 07 Sep 2016
Editor's Comments:
The development of efficient organic phosphors is of great importance to the construction of hybrid organic light-emitting diodes (OLEDs). Sivakumar V. and coworkers at National Institute of Technology (India) successfully synthesized a series of new triphenylamine derivatives with multiple acceptors as yellow organic phosphors and demonstrated that an increase in the number of the acceptors led to a red shift in the photoluminescence (PL), owing to the π–π interaction and aggregation-induced emission. The yellow phosphors all showed solvent-dependent PL or solvatochromic behaviour. The phosphors are stable at high temperatures and have the potential to be used for the fabrication of white OLEDs.
---
Dicyanopyrazine capped with tetraphenylethylene: polymorphs with high contrast luminescence as organic volatile sensors
Chao Ge, Yang Liu,* Xin Ye, Xiaoxin Zheng, Quanxiang Han, Jie Liu and Xutang Tao
DOI: 10.1039/C6QM00146G
First published online 12 Sep 2016
Editor's Comments:
Organic luminescent polymorphs with high contrasts in light emission have attracted much attention. Taking advantage of the aggregation-induced emission feature of propeller-shaped tetraphenylethylene and the strong electron-withdrawing ability of dicyanopyrazine, Liu and coworkers at Shandong University (China) have synthesized a pair of luminescent materials (1DQCN and 2DQCN) with intramolecular charge-transfer attribute.  Whereas 1DQCN shows crystallization-induced blue shift in its light emission, 2DQCN exhibits crystallization-induced red shift due to its more coplanar molecular structure.  2DQCN displays three distinguishable polymorphs with different colour and luminescence.  Switching between the polymorphs can be readily achieved by solvent fuming and thermal annealing, making the luminogen promising as visualization sensor for the detection of volatile organic compounds.
---
An anthracenecarboximide fluorescent probe for in vitro and in vivo ratiometric imaging of endogenous alpha-ʟ-fucosidase for hepatocellular carcinoma diagnosis
Xianfeng Hou, Jin Peng, Fang Zeng,* Changmin Yu and Shuizhu Wu*
DOI: 10.1039/c6qm00112b
First published online 28 Sep 2016
Editor's Comments:
Alpha-ʟ-fucosidase (AFU) is an enzyme that belongs to the family of hydrolases and that plays a vital role in all mammalian cells at low concentrations.  Aberrant levels of AFU, however, cause health problems such as fucosidosis and carcinoma.  Effective detection of AFU can thus be very useful in terms of early disease diagnosis.  F. Zeng, S. Wu and coworkers at South China University of Technology (Guangzhou) presented the first example of ratiometric fluorescent bioprobe for AFU assay.  The bioprobe is based on the mechanism of AFU-catalyzed selective cleavage of α-ʟ-fucose group, enabling highly sensitive and selective detection of AFU in live cells.  Its detection limit is as low as 0.0033 U mL-1. The researchers successfully applied this bioprobe to a hepatocellular carcinoma model of zebrafish for monitoring and spatially mapping endogenous AFU levels. This work offers an effective approach to studying AFU-associated physiological and pathological processes.
---
Different cell behaviors induced by stereochemistry on polypeptide brush grafted surfaces
Yinan Ma, Yong Shen* and Zhibo Li*
DOI: 10.1039/C6QM00200E
First published online 15 Nov 2016
Editor's Comments:
Almost all the proteinogenic amino acids are L-stereoisomers in the living systems. Is there any biological implication of this structural motif? A "yes" answer was given in a recent study by Y. Shen, Z. Li and collaborators at Qingdao University of Science and Technology (Shandong) and Institute of Chemistry of Chinese Academy of Sciences (Beijing).  The researchers prepared surface-grafted poly(γ-benzyl glutamate) brushes with different secondary structures to investigate the influence of main-chain chirality on cell adhesion behaviours.  They found that cells adhered and grown more densely and homogeneously on the poly(γ-benzyl L-glutamate) (PBLG)-grafted surfaces than on those grafted with its enantiomeric counterpart poly(γ-benzyl D-glutamate) (PBDG).  This is possibly owing to the chirality recognition of living cells through the stereospecific interactions between the chiral molecules and the cell surface proteins. This study may help better understand cell/chirality interactions.
Save