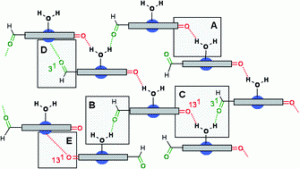 Semisynthetic zinc chlorins are shown for the first time to self-assemble in the absence of an intrinsic hydroxy group, which is always present in the chlorosomal bacteriochlorophylls (BChl's) c, d and e.
Chlorosomes of green photosynthetic bacteria are the most efficient natural light-harvesting complexes.  Structural investigations have revealed fascinating self-assembled supramolecular chromophore architectures which are not scaffolded by protein matrices.  In this study, Teodor Silviu Balaban and co-workers from Germany, Japan and France have investigated the self-assembling ability of synthetic chlorins which lack the hydroxyl group but have at least two carbonyl groups.
The findings in this study may shed more light onto the forces and interactions governing the self-assembly of natural and modified BChl's, and opens up possibilities for artificial light-harvesting systems mimicking the chlorosomal BChl's in a truly biomimetic approach.
Read the article for free until 21st May by clicking the link below:
Water coordinated zinc dioxo-chlorin and porphyrin self-assemblies as chlorosomal mimics: variability of supramolecular interactions
Aldo Jesorka , Alfred R. Holzwarth, Andreas Eichhöfer, Chilla Malla Reddy , Yusuke Kinoshita, Hitoshi Tamiaki, Martin Katterle , Jean-Valère Naubron and Teodor Silviu Balaban
Photochem. Photobiol. Sci., 2012, Advance Article, DOI: 10.1039/C2PP25016K
This article is published as part of a themed issue in honour of Professor Kurt Schaffner on the occasion of his 80th birthday; look out for the issue in a few months!
You can keep up to date with the latest developments from PPS by signing up for free table of contents alerts.