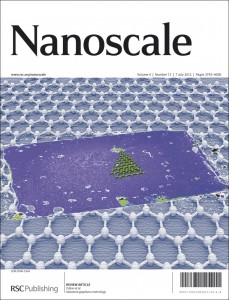 We would like to share with you some recent high impact graphene articles, published in Nanoscale.
With an international readership, across the many disciplines involved with nanoscience and nanotechnology and a first (2011) Impact Factor of 5.91, Nanoscale is the ideal place to publish your research.
Nanoscale has very fast times to publication. Our Accepted Manuscript service means research is published and can be cited on average within 1 day of acceptance – we invite you to submit your best research to Nanoscale.
Sign up to receive our free table-of-contents e-alert at www.rsc.org/alerts and be among the first to read our newest articles.
Read this high-impact graphene research today:
Review Articles
Graphene transfer: key for applications
Junmo Kang, Dolly Shin, Sukang Bae and Byung Hee Hong
DOI: 10.1039/C2NR31317K
Graphene edges: a review of their fabrication and characterization
Xiaoting Jia, Jessica Campos-Delgado, Mauricio Terrones, Vincent Meunier and Mildred S. Dresselhaus
DOI: 10.1039/C0NR00600A
Graphene: a versatile nanoplatform for biomedical applications
Yin Zhang, Tapas R. Nayak, Hao Hong and Weibo Cai
DOI: 10.1039/C2NR31040F
Modeling of graphene nanoribbon devices
Jing Guo
DOI: 10.1039/C2NR31437A
Original research
Percolation scaling in composites of exfoliated MoS2 filled with nanotubes and graphene
Graeme Cunningham, Mustafa Lotya, Niall McEvoy, Georg S. Duesberg, Paul van der Schoot and Jonathan N. Coleman
DOI: 10.1039/C2NR31782F
Flexible photovoltaic cells based on a graphene–CdSe quantum dot nanocomposite
Jing Chen, Feng Xu, Jun Wu, Khan Qasim, Yidan Zhou, Wei Lei, Li-Tao Sun and Yan Zhang
DOI: 10.1039/C2NR11656A
Facile synthesis of metal oxide/reduced graphene oxide hybrids with high lithium storage capacity and stable cyclability
Jixin Zhu, Ting Zhu, Xiaozhu Zhou, Yanyan Zhang, Xiong Wen Lou, Xiaodong Chen, Hua Zhang, Huey Hoon Hng and Qingyu Yan
DOI: 10.1039/C0NR00744G
Graphene based gene transfection
Liangzhu Feng, Shuai Zhang and Zhuang Liu
DOI: 10.1039/C0NR00680G
Real-time DNA detection using Pt nanoparticle-decorated reduced graphene oxide field-effect transistors
Zongyou Yin, Qiyuan He, Xiao Huang, Juan Zhang, Shixin Wu, Peng Chen, Gang Lu, Peng Chen, Qichun Zhang, Qingyu Yan and Hua Zhang
DOI: 10.1039/C1NR11149C
Surface plasmon resonance-induced visible light photocatalytic reduction of graphene oxide: Using Ag nanoparticles as a plasmonic photocatalyst
Tongshun Wu, Sen Liu, Yonglan Luo, Wenbo Lu, Lei Wang and Xuping Sun
DOI: 10.1039/C1NR10128E
In situ synthesis of high-loading Li4Ti5O12–graphene hybrid nanostructures for high rate lithium ion batteries
Laifa Shen, Changzhou Yuan, Hongjun Luo, Xiaogang Zhang, Sudong Yang and Xiangjun Lu
DOI: 10.1039/C0NR00639D
Graphene decoration with metal nanoparticles: Towards easy integration for sensing applications
Albert Gutés, Ben Hsia, Allen Sussman, Willi Mickelson, Alex Zettl, Carlo Carraro and Roya Maboudian
DOI: 10.1039/C1NR11537E
Enhanced photocatalytic H2-production activity of graphene-modified titania nanosheets
Quanjun Xiang, Jiaguo Yu and Mietek Jaroniec
DOI: 10.1039/C1NR10610D
Highly dispersed ultrafine Pt and PtRu nanoparticles on graphene: formation mechanism and electrocatalytic activity
C. Nethravathi, E. A. Anumol, M. Rajamathi and N. Ravishankar
DOI: 10.1039/C0NR00664E
Fabrication of hybrids based on graphene and metal nanoparticles by in situ and self-assembled methods
Fu-An He, Jin-Tu Fan, Fei Song, Li-Ming Zhang and Helen Lai-Wa Chan
DOI: 10.1039/C0NR00672F
Controlled assembly of Fe3O4 magnetic nanoparticles on graphene oxide
Yi Zhang, Biao Chen, Liming Zhang, Jie Huang, Fenghua Chen, Zupei Yang, Jianlin Yao and Zhijun Zhang
DOI: 10.1039/C0NR00776E
Synthesis of reduced graphene oxide-anatase TiO2 nanocomposite and its improved photo-induced charge transfer properties
Ping Wang, Yueming Zhai, Dejun Wang and Shaojun Dong
DOI: 10.1039/C0NR00714E
Check out our previous collection of graphene reviews and our graphene web collection for even more fascinating articles in this exciting research area.