Issues 11 & 12 of Nanoscale are now online.
Issue 11 Highlights:
The outside front cover of Issue 11 features an article on the Bundling dynamics regulates the active mechanics and transport in carbon nanotube networks and their nanocomposites by Myung Gwan Hahm, Hailong Wang, Hyun Young Jung, Sanghyun Hong, Sung-Goo Lee, Sung-Ryong Kim,  Moneesh Upmanyu and Yung Joon Jung.
Development of viral nanoparticles for efficient intracellular delivery is the article highlighted on the inside front cover by Zhuojun Wu, Kevin Chen, Ibrahim Yildiz, Anouk Dirksen, Rainer Fischer, Philip E. Dawson and Nicole F. Steinmetz.
Issue 11 also contains the following Feature and Review articles: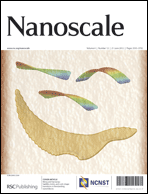 Issue 12 Highlights:
Issue 12 of Nanoscale highlights a Communication on Saddles, twists, and curls: shape transitions in freestanding nanoribbons by Hailong Wang and Moneesh Upmanyu on the outside front cover.
The inside front cover shows a Feature Article on the Impacts of core–shell structures on properties of lanthanide-based nanocrystals: crystal phase, lattice strain, downconversion, upconversion and energy transfer by Arik Kar and Amitava Patra. 
Issue 12 also contains the following high-impact Communications: