Nitrogen containing aromatic compounds are important in pharmaceutical, materials and agrochemical applications. A direct, catalytic and selective reduction of nitroarenes is a desirable transformation that many groups have targeted.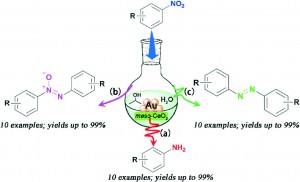 In this advance article, researchers employed a ceria-supported heterogeneous gold catalyst in combination with 2-propanol as a hydrogen source as a mild system for the selective reduction of nitroarenes. Cao and colleagues obtained excellent yields of azoxyarenes, azoarenes and anilines by varying simple components of the reaction conditions. Running the reduction in the presence of 0.5 equivalents of KOH and water selectively yields the azoarene, while just lowering the amount of water diverts conversion to azoxyarenes. Exclusion of base at elevated temperatures furnishes the primary amine. Though the authors do not know the precise mechanism they propose involvement of a metal-hydride species similar to the Haber electrochemical hydrogenation.
To read more, follow the link below:
Mild, selective and switchable transfer reduction of nitroarenes catalyzed by supported gold nanoparticles
Xiang Liu, Sen Ye, Hai-Qian Li, Yong-Mei Liu, Yong Cao and Kang-Nian Fan
Catal. Sci. Technol., 2013, Advance Article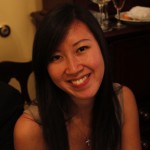 Tien Nguyen is working towards her PhD in David Nicewicz's research group at the University of North Carolina at Chapel Hill, USA. Her current area of research focuses on anti-Markovnikov hydroamination of alkenes using photoredox catalysis.