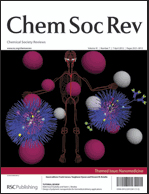 A highlight of the year so far for me is the publication of the Chem Soc Rev themed issue on Nanomedicine. Have you read it yet?
A lot of planning and hard work goes into the production of our themed issues. In fact, it has been over two years since I initially proposed this themed issue to the Chem Soc Rev Editorial Board. With the help, input and guidance of the fantastic guest editors – Frank Caruso, Taeghwan Hyeon and Vince Rotello – and the enthusiasm and dedication of all the authors, not to mention the referees and our Editorial Production team, the issue is now online. And I think it's great. What about you?
As the guest editors state in their Editorial, nanomedicine is 'poised to revolutionise healthcare and medicine through transformative new diagnostic and therapeutic tools'. Chemistry plays a crucial role, not just in terms of developing new materials but also the techniques and tools used to monitor and analyse their interactions in tissues. I hope that this themed issue will be a useful resource for those involved in research and teaching in this fascinating area.
Also of interest
Tailoring nanoparticles: Suits you sir!
ISACS9: Challenges in Nanoscience 31 August – 3 September, Xiamen, China

@ChemSocRev