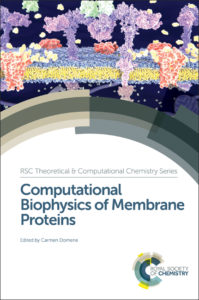 Computational Biophysics of Membrane Proteins edited by Carmen Domene sees the Theoretical & Computational Chemistry Series celebrate its tenth title published in the series.
Led by Editor-in-chief Jonathan Hirst, University of Nottingham, UK, the series covers all aspects of theoretical & computational chemistry from current theoretical methods and techniques to new developments in emerging areas. Books in the series provide timely references for postgraduate students and practising chemists.
Recent titles include:
Simulating Enzyme Reactivity: Computational Methods in Enzyme Catalysis edited by Inaki Tunon and Vicent Moliner
In Silico Medicinal Chemistry: Computational Methods to Support Drug Design edited by Nathan Brown
Theory of Molecular Collisions by Gabriel G Balint-Kurti and Alexander Palov
View all 10 titles in the Theoretical & Computational Chemistry Series.
Don't forget you can access the table of contents, preface, front matter and first chapter of every eBook in the series for free via the RSC Publishing website.
If you do have an idea for a book in the series or just want to know more then please contact Commissioning Editor Leanne Marle.