This update provides new and improved functionality for the RSC Publishing Platform: 
Improved Issue Navigation on Journal Homepages
Following your feedback, we have introduced a new journal navigation based on dropdown menus for Decade, Year/Volume and Issue.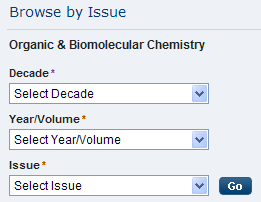 These options provide a clearer way of navigating within the journal that you are browsing. Many of our journals have complex histories of name changes over the past 50 years and these name changes are reflected in a new Related Journals section, below the dropdown boxes. For some journals where there is a clear continuity of naming (such as Chemical Communications) we will be working to make all the years of the journal browsable from one set of dropdowns.  However, where there has been a name change (such as for Journal of the Chemical Society, Perkin Transactions 1 and 2, which merged to become Organic & Biomolecular Chemistry in 2003) then these journals will continue to be listed as related and to have separate dropdownnavigations. We are already working on improving this aspect of  navigation for a future release.
View our 'Most Read' Journal Articles
Check out our new 'Most Read Articles' tab, which lists the top 15 articles in each of our current journals. We are currently showing the most read articles covering 30 days, but we will soon reduce this period for our journals that have weekly issues.  View the most read articles on Chemical Science, Chemical Communications and Chemical Society Reviews.
Print Views for Journal Contents Lists

We now provide a choice of print views for contents listings. For issue contents lists we provide the PDF of the contents pages (commonly 6-8 pages) and a new compact print view, accessed by the new button.  For Advance Articles the new print view is provided by our RSS Feeds (via Feedburner). View the print view of the latest issue of Chemical Science and for the Advance Articles for Chemical Science.
Open URL implemented on Journal Article HTML
If your institution/organisation has registered their OpenURL server on our Platform, you can now follow OpenURL links from the references at the end of our HTML journal articles. The links direct you to the recommended source for the content, via your institution/organisation's OpenURL service. 
New Mobile Pages launched
Today we launched a new mobile homepages for the RSC Publishing Platform. The hompage is a simple, fast listing of our current and archive journals, enabling users from mobile devices to quickly access the latest issues and advance articles. We also launched a new tab for browsing back issues of  journals.