We are delighted to welcome Dr Mike Sutton, Lubrizol, UK as an Editorial Board Member for RSC Sustainability, a new open access journal publishing solutions-focused research to solve sustainability challenges.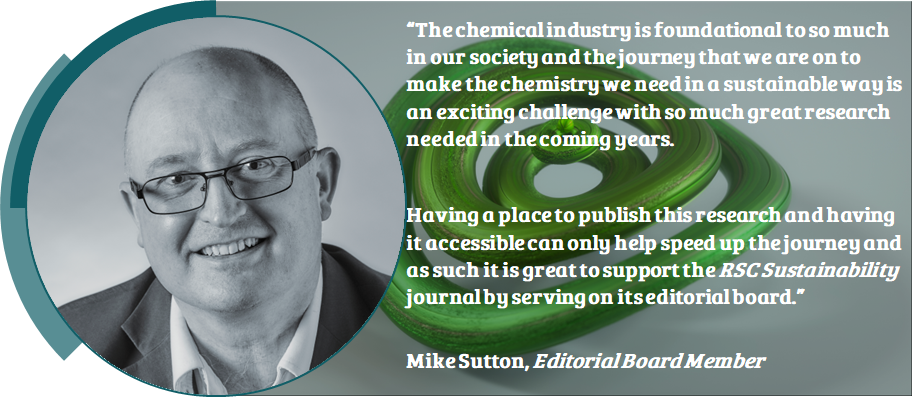 Learn more about our new Editorial Board Member
Mike Sutton is a Corporate Technical Fellow at Lubrizol. Mike has a broad range of projects for which he is accountable looking to bring environmental sustainability and lifecycle thinking into Lubrizol products and manufacturing in the short, medium and long term across the corporation and on a global basis.
Mike joined Lubrizol in 2002, historically working in chemical additives for engine oils, both in passenger and commercial vehicle areas. Prior to Lubrizol Mike worked for Ford Motor Company in their diesel engineering department and prior to that on completion of his PhD worked for the UK government in lubricants for the armed forces.
Mike is an Honorary Professor at the University of Nottingham and serves on the advisory board for the School of Chemistry at the University. He has previously served on various committees including the EPSRC Science Engineering and Technology Board.
Read out most recently published papers here. Find out more about RSC Sustainability on the journal webpage and submit your manuscript now.
Please join us in welcoming Dr Mike Sutton to RSC Sustainability.