We are delighted to welcome Dr Cristina Pozo-Gonzalo, Deakin University, Australia, as an Associate Editor for RSC Sustainability, a new open access journal publishing solution-focused research to solve sustainability challenges.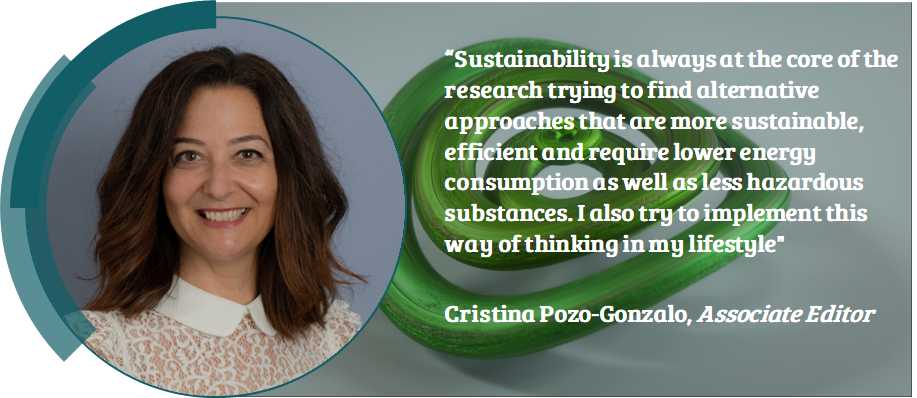 Learn more about our new Associate Editor
Dr. Pozo-Gonzalo works as a Senior Research Fellow at the Institute for Frontier Materials (IFM), Deakin University in Melbourne (Australia). She attained her Bachelor of Science and honours at the University of Zaragoza (Spain). After graduating, she received her PhD degree in Chemistry from the University of Manchester (United Kingdom) on the electrochemical synthesis of Conducting Polymers. In 2004, she joined the Centre for Electrochemical Technologies in San Sebastian (Spain) as the Head of Electrooptical unit where she stayed for 7 years, managing a total of 23 projects. After moving to Australia, she has been working with Prof. Alan Bond at Monash University and in 2012 she joined Deakin University where she has been working in reversible metal-air battery with advanced electrolytes, ionic liquids funded by ARC Centre of Excellence for Electromaterials Science (ACES).
Currently, she leads research activities in sustainable energy storage technologies covering the circular economy (CE) model from materials redesign up to critical metals recovery using solvometallurgy and electrochemistry with important benefits for the environment. She has led IFM's development of an energy research node on circular economy (CE) for energy storage and generation and designed the Institute's CE road map. She is a board member for the journal Sustainable Chemistry, Review editor of Frontiers in Chemistry in the electrochemistry division and Associate Editor for RSC Sustainability. During her research career, she has published 97 publications, including 4 patents and 3 book chapters and managed 33 projects as chief investigator.
Read some of her recent contributions below:
Tunable multi-doped carbon nanofiber air cathodes based on a poly(ionic liquid) for sodium oxygen batteries with diglyme/ionic liquid-based hybrid electrolytes
Han Li, The An Ha, Nagore Ortiz-Vitoriano, Xungai Wang, Jian Fang, Patrick C. Howlett and Cristina Pozo-Gonzalo
Journal of Materials Chemistry A, 2022, 10, 11742-11754
Fluorine-free ionic liquid electrolytes for sustainable neodymium recovery using an electrochemical approach
Kalani Periyapperuma, Jennifer M. Pringle, Laura Sanchez-Cupido, Maria Forsyth and Cristina Pozo-Gonzalo
Green Chemistry, 2021, 23, 3410-3419
RSC Sustainability is now open for submissions. Find out more on the journal webpage, sign up to e-Alerts or submit your manuscript now.
Please join us in welcoming Dr Pozo-Gonzalo to RSC Sustainability.