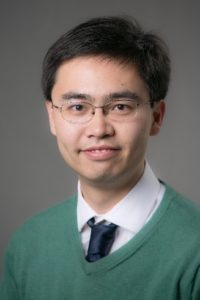 Dr. Xiaoji Xu is the Class of '68 associate professor in the Department of Chemistry at Lehigh University in Bethlehem, Pennsylvania, United States. Before his independent research career, he was a postdoctoral fellow at the University of Toronto with Dr. Gilbert C. Walker. He received his B.S. in Chemistry from Peking University in 2004 and Ph.D. from The University of British Columbia in 2009 on femtosecond spectroscopy with Dr. John W. Hepburn and Dr. Valery Milner. His current research focuses are on nanoscale chemical imaging, laser spectroscopy, and innovations in scanning probe microscopy for chemical measurement and material interfaces. He has published more than 40 peer-reviewed articles and holds several patents on AFM-based infrared microscopy. He was selected as a Beckman Young Investigator in 2018 and Sloan Research Fellow in 2020. Xiaoji @xiaojixu and his group @xu_group can be found on Twitter. 
Read Xiaoji's Emerging Investigator article "Peak force visible microscopy" and check out all of the 2021 Soft Matter Emerging Investigator articles here.
How do you feel about Soft Matter as a place to publish research on this topic?
I am very happy to publish my first Soft Matter article. My research area of scanning probe microscopy has many applications in polymers, proteins, and interfaces – topics that are covered by Soft Matter.
What aspect of your work are you most excited about at the moment and what do you find most challenging about your research?
I am excited about developing new scanning probe microscopy that can be applied to the soft matter interfaces. The biggest challenge of my research is to find meaningful scientific questions that can be solved with various types of scanning probe microscopy. It will need to communicate with scientists and engineers worldwide and establish collaborations.
In your opinion, what are the most important questions to be asked/answered in this field of research?
In my current research area, one of the most important questions to be answered is what limits the spatial resolution and sensitivity of AFM-based photothermal microscopy. Can it reach a single molecule with a single nanometer spatial resolution?
Can you share one piece of career-related advice or wisdom with other early-career scientists?
My advice to fellow early-career scientists is that inspirations for new experiments come from working in the laboratory. Do not let too much administrative work overwhelm your time working in the laboratory.