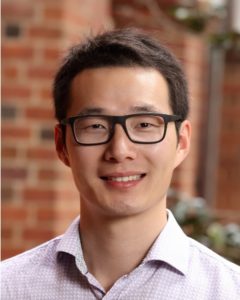 Li-Heng Cai received his B.S. in Physics at Lanzhou University and Ph.D. in Materials Science at the University of North Carolina at Chapel Hill, where he researched both theoretical polymer physics and experimental biophysics under the supervision of Michael Rubinstein and Richard Boucher. He switched from theory to experimentation during his postdoctoral training with David A. Weitz and Jeffrey J. Fredberg at Harvard University. In 2018, he joined the faculty in the School of Engineering and Applied Science at the University of Virginia, where he leads the Soft Biomatter Laboratory. His research aims to understand and control the interactions between active soft materials and living systems to solve challenges in energy, healthcare, and environmental sciences. He has been recognized by the ACS PRF Doctoral New Investigator Award and the NSF CAREER Award. He can be found on Twitter @lihengcai and his lab group @SoftBiomatter.
Read Li-Heng's Emerging Investigator article "Molecular understanding for large deformations of soft bottlebrush polymer networks" and check out all of the 2021 Soft Matter Emerging Investigator articles here.
How do you feel about Soft Matter as a place to publish research on this topic?
Bottlebrush polymer networks are a new class of soft yet 'solvent' materials matching the mechanical properties of biological tissues. Understanding and controlling the mechanical properties of bottlebrush polymer networks is critical to the design and creation of new soft materials. With its diverse and interdisciplinary readership, Soft Matter is the ideal place to publish research in bottlebrush polymer networks.
What aspect of your work are you most excited about at the moment and what do you find most challenging about your research?
We discovered a previously unrecognized dependence of the extensibility of bottlebrush networks on the stiffness, and were able to develop a molecular theory to precisely capture the unusual mechanical behaviour. Because I was a theorist, I tend to develop a deep understanding of experimental findings. This raises a challenge: how to design and perform the simplest possible yet key experiments, which would generate reliable data for the subsequent theoretical understanding. Finally, how to exploit the newly developed understanding to design and create better materials of practical use.
In your opinion, what are the most important questions to be asked/answered in this field of research?
The most important and challenging question to be answered in the research of polymer networks is how to independently control the extensibility and the stiffness of a polymer network. These two most important mechanical properties of polymer networks and are intrinsically coupled: stiffer networks are less extensible. Solving this challenge would open avenues for designing high-performance polymer networks.
Can you share one piece of career-related advice or wisdom with other early career scientists?
To me, the most important thing is to identify problems of both fundamental and practical importance. Every project we are doing now meets this criterion. Being able to do so allows me to attract the talent and resources required to do the work.