Congratulations to award winners Siyuan Chen and Mousumi Akter (left and right of the photo, respectively) for their Soft Matter presentations at the "31st Society of Polymer Science, Japan-Research Group on Polymer Gels Symposium" held in Tokyo on 16th and 17th January 2020!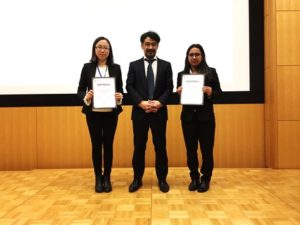 The Soft Matter presentation prizes were awarded by Chair of the event, Professor Akira Kakugo of Hokkaido University (middle of the photo).
Details of the winners can be seen below.
Siyuan Chen
Talk Title: "Protein-free insulin delivery microneedle patch integrated with temperature independent, glucose-responsive hydrogel"
Affiliation: Co-researcher at the Kanagawa Institute of Industrial Science and Technology and Researcher & Tokyo Medical and Dental University
Mousumi Akter
Talk Title: Photo-activated cargo transportation by molecular swarm robot
Affiliation: Hokkaido University