We are delighted to announce that the Soft Matter Young Investigators Meet 2016 (SMYIM2016) will be held in Goa, India, on 16 – 18 December 2016.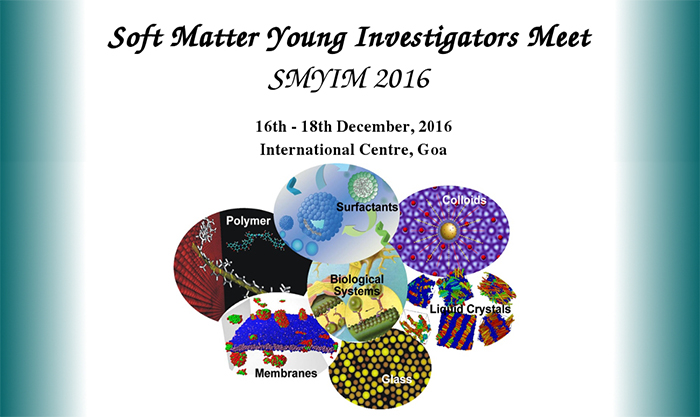 16 – 18 December 2016, Goa, India
The soft matter young investigator meet (SMYIM), started 4 years back, and the previous three meetings, in Jan-2014, Dec-2014 and Dec-2015, in Pondicherry were a wide success.
SMYIM aims to bring together serious soft matter scientists and engineers to present their research ideas and to encourage new and fruitful collaborations. The meeting is an attempt to connect a rapidly growing interdisciplinary group working on colloidal/polymer/granular matter-dynamics, self assembly of mesoscopic structures and the interface of soft matter, chemistry and biology, to enhance the quality of soft matter science through profitable discussions by bringing scientist together.
The past meetings appealed to broad and high-level variety of scientists, theorists, experimentalists and modeling folks, from various academic and geographical backgrounds, and have led to long-lasting collaborations between researchers with complementary skill sets.


Scientific Sessions:
Bulk soft matter assemblies (colloids, gels, proteins, surfactants and liquid crystals)
Nanoparticle and Nanomaterials
Polymers, networks and composites
Surfaces, interfaces, and interactions
Biological aspects of soft matter