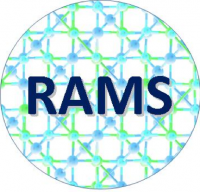 We are delighted to announce that the Recent Appointees in Materials Science 2015 Conference (RAMS2015) will be held at the University of Warwick on 16-17th September 2015.
Deadlines and dates
Registration will open shortly so be sure to sign up to this essential meeting before 1st September 2015! The cost of registration is £125 for accommodation and meals, including the conference banquet at Warwick Castle. A reduced rate of £70 is offered for those not requiring accommodation.
Abstract submissions are now being accepted for oral and poster presentation but make sure you submit your abstracts by the deadline on 30th June 2015.
Bursaries
A small number of bursaries are available for those with limited travel budgets and will be assessed on an individual basis. Enquire about bursaries here.
Keynote speakers
Biomaterials Science Advisory Board member Andrew Dove (University of Warwick) will be speaking along with other keynote speakers Aron Walsh (University of Bath) and Mary Ryan (Imperial College London). View the full list of invited speakers here.
For full details visit the RAMS2015 website. We hope you can join the materials science community for this fantastic event.