Soft Matter issue 11 is out now!
You can read the full issue here…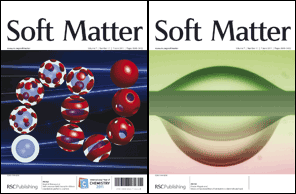 The paper featured on the outside front cover is 'Self-consistent field theory for diblock copolymers grafted to a sphere' by Bart Vorselaars, Jaeup U. Kim, Tanya L. Chantawansri, Glenn H. Fredrickson and Mark W. Matsen. The inside front cover highlights work by Hüseyin Burak Eral, Jolet de Ruiter, Riëlle de Ruiter, Jung Min Oh, Ciro Semprebon, Martin Brinkmann and Frieder Mugele: 'Drops on functional fibers: from barrels to clamshells and back'.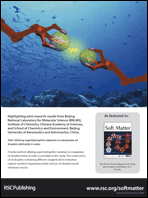 Bin Su, Shutao Wang, Yanlin Song and Lei Jiang highlight their recent work on 'Utilizing superhydrophilic materials to manipulate oil droplets arbitrarily in water' on the back cover of the issue. 
The following review articles are included in the issue: