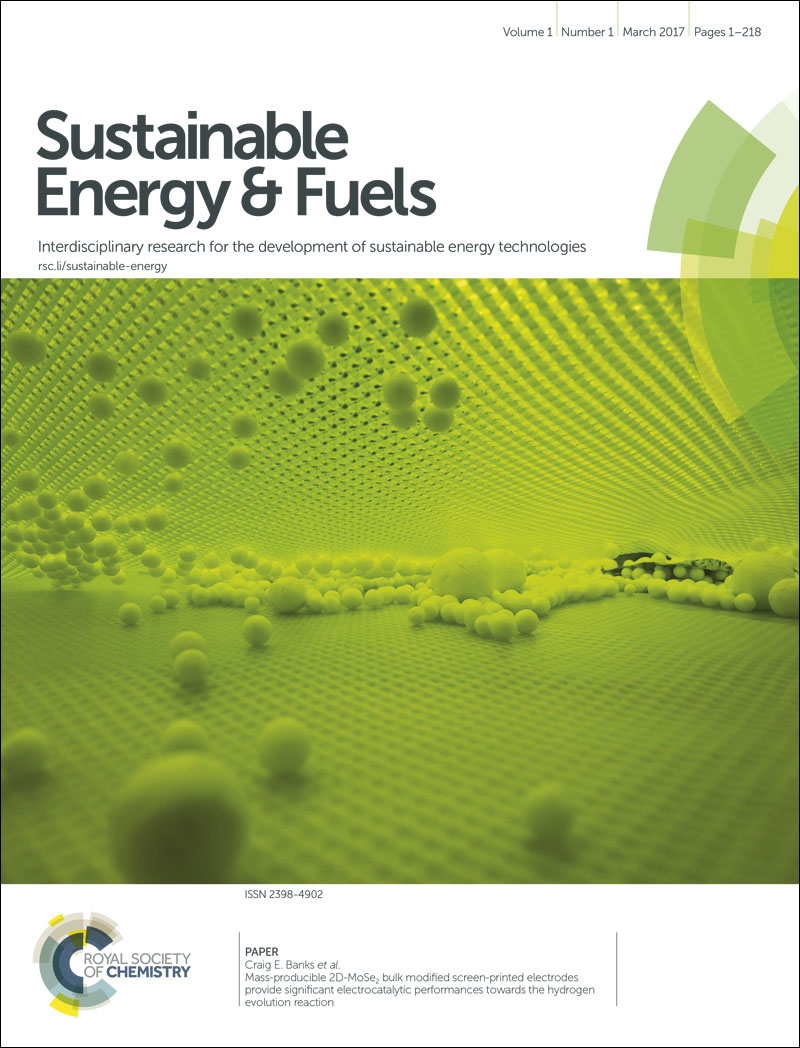 We are delighted to announce that the first issue of Sustainable Energy & Fuels is now online and available to read free of charge.
Packed full of the latest high-quality research in the energy community, our inaugural issue includes contributions by Volker Presser, Michael Lyons, Say Chye Joachim Loo, Editor-in-Chief James Durrant, and Associate Editors Marta Sevilla and Vincent Artero on topics such as batteries, photovoltaics and catalysis for energy technologies. All Sustainable Energy & Fuels content in 2017 and 2018 is free to access on registration.
"The launch of Sustainable Energy & Fuels has been very positively received by colleagues worldwide," James says. "The journal fills a key gap in the portfolio and will be a very valuable resource for scientists working on the grand challenge of developing more sustainable energy and fuel technologies."
Check out some of the articles below or access the whole first issue here.
Editorial
Welcome to the first issue of Sustainable Energy & Fuels
James Durrant and Anna Simpson
Sustainable Energy & Fuels, 2017, 1, 10-13. DOI: 10.1039/C7SE90001E
Perspective
Atomic layer deposition for perovskite solar cells: research status, opportunities and challenges
V. Zardetto, B. L. Williams, A. Perrotta, F. Di Giacomo, M. A. Verheijen, R. Andriessen, W. M. M. Kessels and M. Creatore
Sustainable Energy & Fuels, 2017, 1, 30-55. DOI: 10.1039/C6SE00076B
Paper
Mass-producible 2D-MoSe2 bulk modified screen-printed electrodes provide significant electrocatalytic performances towards the hydrogen evolution reaction
Samuel J. Rowley-Neale, Christopher W. Foster, Graham C. Smith, Dale A. C. Brownson and Craig E. Banks
Sustainable Energy & Fuels, 2017, 1, 74-83. DOI: 10.1039/C6SE00115G
Paper
The role of layer-by-layer, compact TiO2 films in dye-sensitized photoelectrosynthesis cells
Rodolfo L. Coppo, Byron H. Farnum, Benjamin D. Sherman, Neyde Y. Murakami Iha and Thomas J. Meyer
Sustainable Energy & Fuels, 2017, 1, 112-118. DOI: 10.1039/C6SE00022C
Paper
A graphene/carbon nanotube biofilm based solar-microbial fuel device for enhanced hydrogen generation
Chee Keong Ngaw, Cui-e Zhao, Victor Bochuan Wang, Staffan Kjelleberg, Timothy Thatt Yang Tan, Qichun Zhang and Say Chye Joachim Loo
Sustainable Energy & Fuels, 2017, 1, 191-198. DOI: 10.1039/C6SE00018E
Paper
Doping of TiO2 as a tool to optimize the water splitting efficiencies of titania–hematite photoanodes
Darinka Primc, Mario Bärtsch, Davide Barreca, Giorgio Carraro, Chiara Maccato, Cinzia Sada and Markus Niederberger
Sustainable Energy & Fuels, 2017, 1, 199-206. DOI: 10.1039/C7SE00005G