We wish a very warm welcome to our new Chemical Science Associate Editor Graeme Day!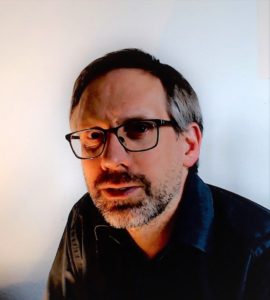 Graeme Day was born in Canada and studied chemistry, mathematics and computing science at Saint Mary's University in Halifax before moving to the University of Oxford for a Masters in theoretical chemistry and a PhD in computational chemistry at University College London. After postdoctoral work in the Pfizer Institute for Pharmaceutical Materials at the University of Cambridge, Graeme began his independent research as a Royal Society University Research Fellow, also in Cambridge, spending most of his time working on modelling pharmaceutical materials and computational methods for interpreting terahertz spectra of molecular crystals. He moved to the University of Southampton in 2012, where he is now Professor of Chemical Modelling, and was awarded a European Research Council Starting Grant for the 'Accelerated design and discovery of novel molecular materials via global lattice energy minimisation' (ANGLE). This grant shifted the focus of his research to functional materials, including porous crystals and organic electronics.
In 2020, Graeme was awarded an ERC Synergy grant 'Autonomous Discovery of Advanced Materials' (ADAM) with Professors Andrew Cooper (Liverpool) and Kerstin Thurow (Rostock) to integrate computational predictions, chemical space exploration with automation and robotics in the materials discovery lab. He continues to work in the area of pharmaceutical solid form modelling, has worked on methods for NMR crystallography and has a developing interest in applying machine learning methods for accelerating simulations, analysing energy landscapes and generating ideas.
Browse a selection of Graeme's work below:
Evolutionary chemical space exploration for functional materials: computational organic semiconductor discovery
Chi Y. Cheng, Josh E. Campbell and Graeme M. Day
Chem. Sci., 2020, 11, 4922-4933
Crystal structure determination of an elusive methanol solvate – hydrate of catechin using crystal structure prediction and NMR crystallography
Marta K. Dudek, Piotr Paluch, Justyna Śniechowska, Karol P. Nartowski, Graeme M. Day and Marek J. Potrzebowski
CrystEngComm, 2020, 22, 4969-4981
Photocatalytic proton reduction by a computationally identified, molecular hydrogen-bonded framework
Catherine M. Aitchison, Christopher M. Kane, David P. McMahon, Peter R. Spackman, Angeles Pulido, Xiaoyan Wang, Liam Wilbraham, Linjiang Chen, Rob Clowes, Martijn A. Zwijnenburg, Reiner Sebastian Sprick, Marc A. Little, Graeme M. Day and Andrew I. Cooper
J. Mater. Chem. A, 2020, 8, 7158-7170
Mining predicted crystal structure landscapes with high throughput crystallisation: old molecules, new insights
Peng Cui, David P. McMahon, Peter R. Spackman, Ben M. Alston, Marc A. Little, Graeme M. Day and Andrew I. Cooper
Chem. Sci., 2019, 10, 9988-9997

Submit to Chemical Science today! Check out our author guidelines for information on our article types or find out more about the advantages of publishing in a Royal Society of Chemistry journal.
Keep up to date with our latest articles, reviews, collections & more by following us on Twitter. You can also keep informed by signing up to our E-Alerts.