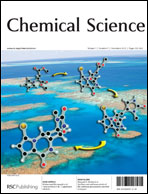 Read all the exceptional content in the latest issue for free online including:
Splitting methanol: the first clear evidence of photocatalysed methanol splitting on titanium dioxide helps to explain why hydrogen production is more efficient for methanol–water mixtures than water alone
Biogenetically inspired approach to alkaloid family: the synthesis of an entire family of marine alkaloids that show potent anticancer activity and potential for treating Alzheimer's disease
One for all, all for one!: A single chiral auxiliary and synthetic route can be used for a three-step preparation of enantiopure β3h, β2h and β2,3-amino acids
The issue also includes a Perspective on antifreeze glycoproteins and a Mini review on imaging molecular ions.
If you have some exciting results to report, submit to Chemical Science today and be seen with the best.