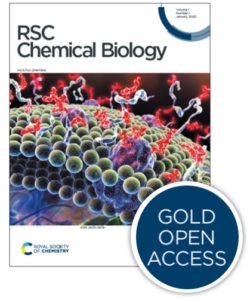 COVID-19 has rendered in-person events to be suspended or cancelled disrupting connections around the globe. The impact of these cancellations on the sharing of information and ideas, especially in the research landscape, has been dramatic.
In an effort to help researchers to stay connected to advances in chemical research and share support, RSC Chemical Biology is proud to announce the launch of the RSC's first online-only seminar series.
The RSC Desktop Seminar Series is an effort to not only replace in-person research seminars during the current pandemic situation but to also expand access for researchers around the world looking to connect to some of the leading minds in the chemical sciences.
Each seminar is 1 hour and 15 minutes long, and will feature two Small Group Informal Sessions, which will offer researchers in attendance a direct line to the speaker to ask questions and build a network with other like-minded individuals.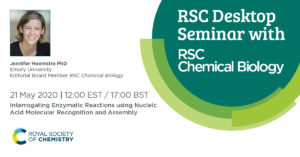 We're very excited to announce that our first Desktop Seminar event will take place at 12:00 EST (17:00 BST) on 21 May 2020, and will feature RSC Chemical Biology Editorial Board Member Dr. Jennifer Heemstra!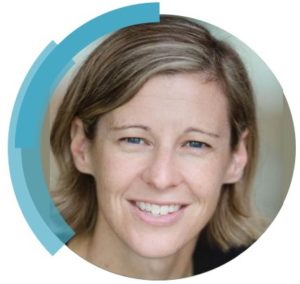 Jen Heemstra is an associate professor of chemistry at Emory University, where her group utilizes the molecular recognition and assembly properties of biomolecules to address challenges in medicine and environmental science.
"I'm thrilled to be able to share the research accomplishments of my group members as the inaugural Desktop Seminar speaker" says Jen. "While our current global crisis has taken away many of the scientific interactions that we prize, the Desktop Seminar format offers a creative platform for forging new relationships with scientists who we might not otherwise have had the opportunity to meet."
Her talk "Interrogating Enzymatic Reactions using Nucleic Acid Molecular Recognition and Assembly" is sure to be incredibly popular, so we encourage anyone interested in attending to register today!
While these initial RSC Desktop Seminars are taking place in the Eastern US time zone working hours, we encourage any and all interested to register and attend!
Other RSC Desktop Seminars in this Series include:
28 May 2020 12:00 PM EST / 17:00 BST
"Platforms for the generation and high-throughput screening of cyclic peptide libraries"
Dr. Ali Tavassoli – Professor of Chemical Biology, University of Southampton, Editorial Board member, RSC Chemical Biology
4 June 2020 12:00 EST / 17:00 BST
"Understanding and Re-engineering the Programming of Iterative Highly Reducing Polyketide Synthases"
Prof. Dr. Russell Cox – Leibniz Universität Hannover; Editor in Chief, RSC Advances; Advisory Board member, RSC Chemical Biology
11 June 2020 12:00 EST / 17:00 BST
"The power of chemoselectivity: Functional protein-conjugates for extra- and intracellular targeting"
Prof. Dr. Christian Hackenberger – Humboldt-Universität zu Berlin, Leibniz-Institut für Molekulare Pharmakologie; Associate Editor, Organic & Biomolecular Chemistry; Advisory Board member, RSC Chemical Biology