The use of small molecule fluorescent probes for high resolution in vivo biological imaging has profoundly impacted clinical diagnostics.
Jared H. Delcamp et al. from the University of Mississippi and University of Southern Mississippi have synthesised two new xanthene-based rosindolizine dyes that demonstrate great potential to be applied as fluorescent imaging probes in the shortwave infrared region.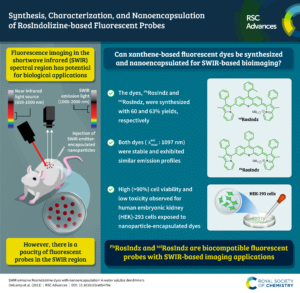 Find out more about RozIndz dyes in the open access article:
SWIR emissive RosIndolizine dyes with nanoencapsulation in water soluble dendrimers
Jared H. Delcamp et al. , RSC Adv., 2021,11, 27832-27836
Tweet about it here!