Welcome to issue 8 of Organic Chemistry Frontiers for 2019 ! The latest OrgChemFront issue is published online now.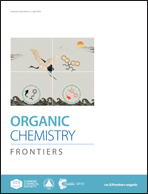 The front cover story, Asymmetric synthesis of highly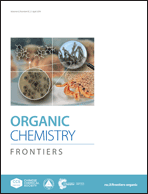 functionalized furanones via direct Michael reactions mediated by a bulky primary amine, is contributed by  Huicai Huang and co-authors. The inside cover features a story on Spirocyclic cladosporicin A and cladosporiumins I and J from a Hydractinia-associated Cladosporium sphaerospermum SW67 by Christine Beemelmanns and co-authors.
Follow review type article is included in current issue:
Progress in the synthesis of perylene bisimide dyes
Agnieszka Nowak-Król and Frank Würthner
Org. Chem. Front., 2019,6, 1272-1318
http://dx.doi.org/10.1039/C8QO01368C
Follow highlight type article is included in current issue:
Neglected sulfur(VI) pharmacophores in drug discovery: exploration of novel chemical space by the interplay of drug design and method development
U. Lücking
Org. Chem. Front., 2019,6, 1319-1324
http://dx.doi.org/10.1039/C8QO01233D