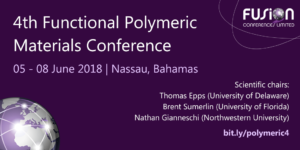 The 4th Functional Polymeric Materials Conference will take place in Nassau, Bahamas from 05-08 June 2018.
The fourth FPM series will bring together leaders in polymers and polymeric materials from around the world to describe their most recent and cutting edge discoveries. The aim of the conference is to capture the multidisciplinary nature of polymer chemistry with topics spanning "basic synthesis and methodology" to "nanoscale and bioinspired materials".
Important dates:
Early bird – 12 Dec 2017
Talk Submission – 09 Jan 2018
Poster Submission – 16 Apr 2018
Last Chance – 20 Apr 2018
More information about the themes and speakers at this conference can be found here.