We are very pleased to announce the Polymer Chemistry special collection on Molecularly Defined Polymers: Synthesis and Function
This special issue presents the latest developments in the synthesis and applications of polymers with controlled, defined and/or precise molecular-scale structures. The Guest Editors for this collection are:
Professor Jeremiah Johnson (MIT, USA)
Professor Filip Du Prez (Ghent University, Belgium)
Professor Elizabeth Elacqua (Pennsylvania State University, USA)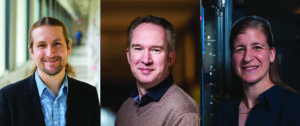 In their Editorial, Guest Editors Jeremiah Johnson, Filip Du Prez and Elizabeth Elacqua selected a number of manuscripts to exemplify and highlight goals and strategies for attaining sequence-defined macromolecules, synthesis of precise macromolecules, macromolecular precision and its roles in dictating the properties of bulk materials.

The full collection can be found here and we have also highlighted a selection of articles below. We hope you enjoy these, and the rest of the articles included in the collection:
Green light LED activated ligation of a scalable, versatile chalcone chromophore
Ishrath Mohamed Irshadeen, Kevin De Bruycker, Aaron S. Micallef, Sarah L. Walden, Hendrik Frisch and Christopher Barner-Kowollik
Polymer Chemistry, 2021,12, 4903-4909
Recent progress in the construction of polymers with advanced chain structures via hybrid, switchable, and cascade chain-growth polymerizations
Guang Chen, Lei Xia, Fei Wang, Ze Zhang and Ye-Zi You
Polymer Chemistry, 2021,12, 3740-3752
Synthesis and sequencing of informational poly(amino phosphodiester)s
Ian Roszak, Laurence Oswald, Abdelaziz Al Ouahabi, Annabelle Bertin, Eline Laurent, Olivier Felix, Isaure Carvin-Sergent, Laurence Charles and Jean-François Lutz
Polymer Chemistry, 2021,12, 5279-5282
Amino acid acrylamide mimics: creation of a consistent monomer library and characterization of their polymerization behaviour
Dries Wyers, Toon Goris, Yana De Smet and Tanja Junkers
Polymer Chemistry, 2021,12, 5037-5047
Stereocontrolled, multi-functional sequence-defined oligomers through automated synthesis
Chiel Mertens, Matthieu Soete, Marcin L. Ślęczkowski, Anja R. A. Palmans, E. W. Meijer, Nezha Badi and Filip E. Du Prez
Polymer Chemistry, 2020,11, 4271-4280
Mechanistic insights into the pressure-induced polymerization of aryl/perfluoroaryl co-crystals
Margaret C. Gerthoffer,  Bohan Xu,  Sikai Wu,  Jordan Cox,  Steven Huss,  Shalisa M. Oburn,  Steven A. Lopez,  Vincent H. Crespi,  John V. Badding and  Elizabeth Elacqua
Polymer Chemistry, 2022,13, 1359-1368
All the articles in the collection are currently FREE to read until 14 June!