What was your inspiration in becoming a polymer chemist?
When I was an undergraduate student, I had the opportunity to learn about cell sheet engineering developed by Professor Teruo Okano at Tokyo Women's Medical University. They used surfaces coated with poly(N-isopropyl acrylamide) (PNIPAM) as a temperature-responsive tissue culture plate, which enables to harvest cultured cells by lowering temperature below the lower critical solution temperature of PNIPAM. This technology solved the problems associated with conventional techniques requiring a proteolytic enzyme to detach cells. I was excited to see how synthetic polymers can be used to manipulate living cells. Since then, I have developed a strong interest in polymer chemistry that can contribute to the advance of biomedical technologies.
What was the motivation behind your most recent Polymer Chemistry article?
I'm particularly interested in gaseous signaling molecules (gasotransmitters) such as nitric oxide (NO), carbon monoxide (CO) and hydrogen sulfide (H2S), which are generated ubiquitously in our body and serve as essential signaling regulators in many physiological and pathological processes. One of the challenges in gasotransmitter research is the lack of delivery technologies, which enable the delivery of a known amount of gasotransmitter for a specific period of time to target cells and tissues. So far, significant efforts have been made to develop small gas donor compounds that decompose to generate gasotransmitters under physiological conditions. However, the use of these compounds is limited due to the fast and uncontrolled gas release rate and toxic side effects of the donor compounds and/or their decomposition byproducts.
In the past years, my research group has been focused on developing polymeric micelles for delivery of NO, CO and H2S to cells. We have been successful in showing the advantages of using polymeric micelles for gasotransmitter delivery by slowing down release rate, reducing toxic side effects and improving therapeutic efficacy. In the recent Polymer Chemistry article, we demonstrated that H2S release rate from polymeric micelles can be modulated by controlling micellar stability, which significantly affects proangiogenic activity of these H2S-releasing micelles. The developed technology will be used as a delivery tool to enhance the fundamental understanding of H2S biology, which will lead to development of innovative approaches for the prevention and treatment of a variety of diseases.
Which polymer scientist are you most inspired by?
Although there are so many remarkable researchers in the field of polymeric biomaterials science, Professor Helmut Ringsdorf at University of Mainz and Professor Jindřich Kopeček at University of Utah are the researchers who I'm inspired by. They developed the concept of "polymer-drug conjugate" in the mid 1970's to improve solubility and blood circulation time of drugs as well as confer targeting capability. Another researcher who influenced my work is Professor Kazunori Kataoka at University of Tokyo. He is the pioneer of polymeric micelles for drug delivery.
How do you spend your spare time?
I enjoy spending time with my cats. I like to see them sleeping in the most cozy and comfortable spots in the house and hear them purring when I'm patting them. I also love visiting different places and enjoy local foods and cultures. I recently found a new hobby: Origami (Japanese style paper folding). This is a good way to relax and refresh my mind.
What profession would you choose if you weren't a scientist?
I still would like to choose a job related to science. A graphic designer for scientific illustration could be a profession I would be interested in. I feel graphics are a powerful tool to explain the essence and concepts of research and increase impact of new technologies and scientific findings. I love to draw and would enjoy contributing to science even if I were not a scientist.
Read Urara's full article now for FREE until 8 October
---
---
About the Webwriter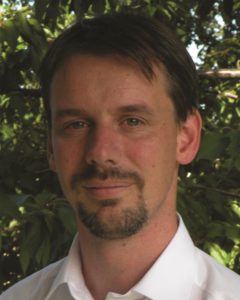 Simon Harrisson is a Chargé de Recherche at the Centre National de la Recherche Scientifique (CNRS), based at the Laboratoire de la Chimie des Polymères Organiques (LCPO) in Bordeaux, France. His research seeks to apply a fundamental understanding of polymerization kinetics and mechanisms to the development of new materials. He is an Advisory Board member for Polymer Chemistry. Follow him on Twitter @polyharrisson