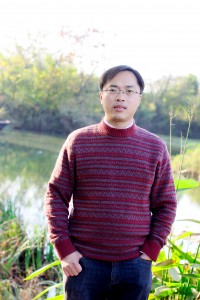 Feihe Huang was born in Shaodong, Hunan, China in 1973. He obtained his Bachelor of Polymer Materials Science and Engineering degree from Hefei University of Technology in July 1996 and a Masters in Polymer Chemistry and Physics from the University of Science and Technology of China in July 1999. After a year of studying at the University of Washington, he transferred to Virginia Polytechnic Institute and State University (VT) where he joined Prof. Harry W. Gibson's group in August 2000. He earned the degree of Master of Science in Chemistry in August 2003. He finished his coursework and research for his PhD in Chemistry during the spring of 2005 with the aid and guidance of Prof. Harry W. Gibson. He joined Prof. Peter J. Stang's group at the University of Utah as a postdoctoral fellow in March 2005. In December 2005, he became a professor of chemistry at the Department of Chemistry, Zhejiang University. In March 2008, he became a Qiushi Chair Professor of Zhejiang University. His current research interests are supramolecular polymers and pillar[n]arene supramolecular chemistry.
Awards and honours he has received to date include the William Preston Award for a MS Thesis from VT, a 2004 Chinese Government Award for Outstanding Self-Financed Students Abroad, The Sigma Xi Research Award for Ph.D. Degree Candidates from the VT Chapter of Sigma Xi Research Society, Outstanding Ph.D. Dissertation Award from VT, the Thieme Chemistry Journals Award, the Outstanding Recent Graduate Alumnus Award from VT, a Humboldt Fellowship for Experienced Researchers from the Humboldt Foundation, The National Science Fund for Distinguished Young Winner (China), Fellow of the Royal Society of Chemistry, and the Chinese Chemical Society AkzoNobel Chemical Sciences Award. He has published more than 160 supramolecular chemistry papers in journals such as PNAS (2), J. Am. Chem. Soc. (18), Angew. Chem., Int. Ed. (5), Adv. Mater. (5), Chem. Soc. Rev. (5), Acc. Chem. Res. (5), Prog. Polym. Sci. (1). His publications have been cited more than 7700 times and he has a h-index of 49. He has served as a guest editor for Chem. Soc. Rev., Acc. Chem. Res., Chem. Rev.and Chem. Commun. He currently sits on the Advisory Boards of Chemical Society Reviews, Chemical Communications, Acta Chim. Sinica, Macromolecules, ACS Macro Letters and Polymer Chemistry.
For more information about Feihe Huang's research group visit the website
What was your inspiration in becoming a chemist?
I wanted to make new materials for us to have better lives and a greener world.
What was the motivation to write your Polymer Chemistry article?
Supramolecular crosslinked polymer gels have tremendous potential as smart materials because they offer a special combination of the elastic behaviour of solids and the microviscous properties of fluids. From many published reports related to supramolecular crosslinked polymer gels, one can reach two general conclusions: 1) there are many kinds of non-convalent interactions that can be used to crosslink polymeric chains to yield supramolecular gels and 2) usually these supramolecular gels contain only one kind of noncovalent crosslink. The consequence of using a single type of supramolecular crosslink is that above some level of external stimulation, sufficient cross-links are broken and subsequently a gel to sol transition usually occurs. This transition, which can occur across a narrow stimulus window, can limit applications in several ways. In order to solve this problem, we are interested in the fabrication of supramolecular crosslinked polymer gels containing two types of physical crosslinks based on two orthogonal supramolecular interactions. In such a system, one supramolecular crosslink can be used to maintain the gel state and the other to change the crosslinking density of the gel under external stimuli, thereby giving rise to the macroscale expansion-contraction behaviour of the gel without the gel-sol transition. The roles of the two networks can be reversed, allowing for a multi-responsive, expansion-contraction system that will be more adaptive. Finally, addition of both stimuli will allow breakdown of the gel. In this Polymer Chemistry article, we report that exactly such a double supramolecular crosslinked polymer gel based on hydrogen bonding and a macrocycle threading process achieves these properties.
Why did you choose Polymer Chemistry to publish your work?
Firstly, Polymer Chemistry is a very good journal and it is great to publish my work in it. Secondly, I am an Advisory Board member for Polymer Chemistry and I want to contribute to the development of this journal.
In which upcoming conferences may our readers meet you?
I am attending the First Artificial Molecular Switches and Motors Gordon Research Conference which will be held at Stonehill College, Easton, MA (USA) on 7th-12th June 2015. Follow the link for more information about this conference.
How do you spend your spare time?
Playing with my son, reading, listen to music, and travelling.
Which profession would you choose if you were not a scientist?
I would be a high-school teacher because I want to work with and help young people.
---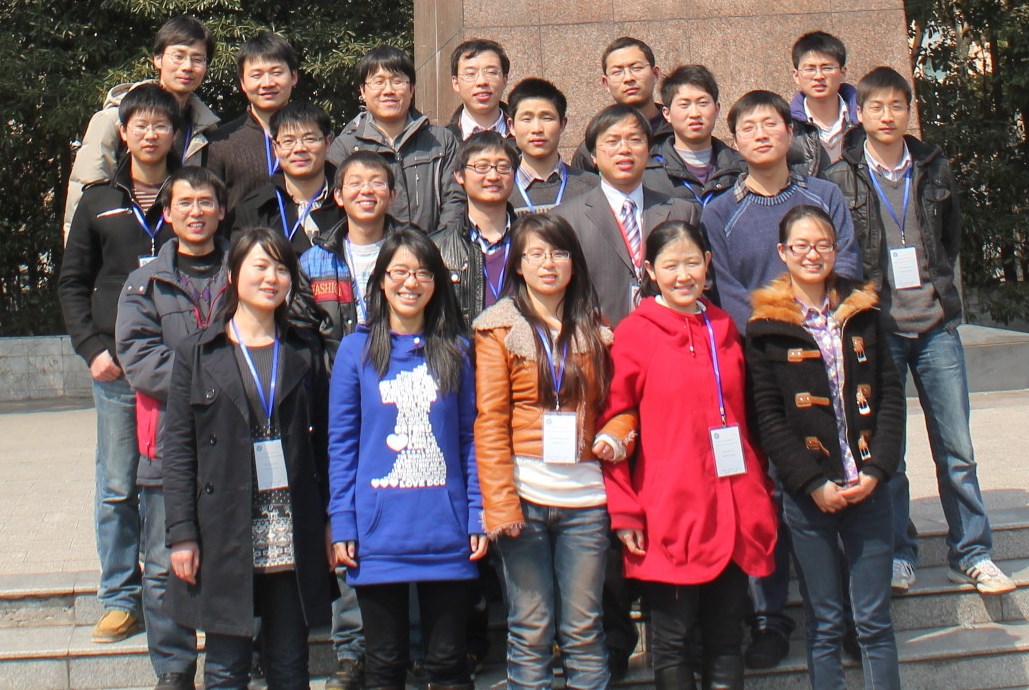 ---
Xiaofan Ji, Kecheng Jie, Steve Zimmerman and Feihe Huang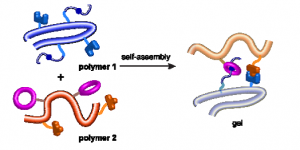 Supramolecular crosslinked polymer gels show special properties largely as a result of the combined mechanical properties contributed by the covalently linked polymer chains and the reversible, stimuli-responsive supramolecular crosslinks. Most supramolecular crosslinked polymer gels contain only one kind of physical cross-link. Herein we report a novel supramolecular polymer gel containing two types of physical crosslinks based on two kinds of non-covalent interactions that are orthogonal: DAN-DeUG quadruply hydrogen-bonding interactions and benzo-21-crown-7/dialkylammonium salt host-guest interactions. One of the crosslinked networks is used to maintain the gel state while the other modulates the crosslink density through an external stimuli, thereby causing a volume change of the gel. This double supramolecular crosslinked polymer gel shows macroscale expansion and contraction behaviour and multistimuli responsiveness. Therefore, we successfully demonstrate that the macroscopic property changes of supramolecular systems can be induced by controlled self-assembly on the molecular scale.
---
Cyrille Boyer is a guest web-writer for Polymer Chemistry. He is currently an Associate Professor and an ARC-Future Fellow in the School of Chemical Engineering, University of New South Wales (Australia) and deputy director of the Australian Centre for NanoMedicine.
---