The prestigious Nobel Prize in Chemistry 2016 was awarded jointly to Jean-Pierre Sauvage, Sir J. Fraser Stoddart and Bernard L. Feringa for their outstanding contributions to the design and synthesis of molecular machines. Many congratulations to all of them!


Ben Feringa has not only significantly influenced our journal as the  inaugural Chair of Organic & Biomolecular Chemistry from 2003 to 2007, but he has also so far published an impressive 40 manuscripts in OBC since it's launch. We would like to mark this special occasion by highlighting only a few of them here: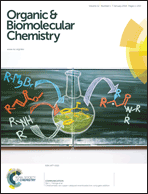 Bacterial patterning controlled by light exposure
Willem A. Velema, Jan Pieter van der Berg, Wiktor Szymanski, Arnold J. M. Driessen and Ben L. Feringa
Mild Ti-mediated transformation of t-butyl thio-ethers into thio-acetates
Thomas C. Pijper, Jort Robertus, Wesley R. Browne and Ben L. Feringa
Silanization of quartz, silicon and mica surfaces with light-driven molecular motors: construction of surface-bound photo-active nanolayers
Gábor London, Gregory T. Carroll and Ben L. Feringa
Chiral separation by enantioselective liquid-liquid extraction
Boelo Schuur, Bastiaan J. V. Verkuijl, Adriaan J. Minnaard, Johannes G. de Vries, Hero J. Heeres and Ben L. Feringa
Catalytic asymmetric conjugate addition of dialkylzinc reagents to α,β-unsaturated sulfones
Pieter H. Bos, Beatriz Maciá, M. Ángeles Fernández-Ibáñez, Adriaan J. Minnaard and Ben L. Feringa
Copper-free 'click': 1,3-dipolar cycloaddition of azides and arynes
Lachlan Campbell-Verduyn, Philip H. Elsinga, Leila Mirfeizi, Rudi A. Dierckx and Ben L. Feringa
A redesign of light-driven rotary molecular motors
Michael M. Pollard, Auke Meetsma and Ben L. Feringa
Photoresponsive dithienylethene-urea-based organogels with "reversed" behavior
Masako Akazawa, Kingo Uchida, Jaap J. D. de Jong, Jetsuda Areephong, Marc Stuart, Giuseppe Caroli, Wesley R. Browne and Ben L. Feringa
Rhodium/phosphoramidite-catalyzed asymmetric arylation of aldehydes with arylboronic acids
Richard B. C. Jagt, Patrick Y. Toullec, Johannes G. de Vries, Ben L. Feringa and Adriaan J. Minnaard
Enantioselective synthesis of β2-amino acids using rhodium-catalyzed hydrogenation
Rob Hoen, Theodora Tiemersma-Wegman, Barbara Procuranti, Laurent Lefort, Johannes G. de Vries, Adriaan J. Minnaard and Ben L. Feringa


If you are interested please find a full list of his OBC articles here.