Congratulations to all the prize winners at the Southampton Supramolecular Chemistry Conference 2016.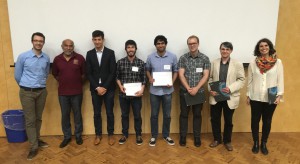 We were pleased to present prizes to these winners:
Valentina Santolini (Imperial College London) – ChemSocRev Talk Prize
Daniel Cornwell (York University) – Organic & Biomolecular Chemistry Talk Prize
Chris Taylor (Sheffield University) – ChemComm Poster Prize
The conference took place at University of Southampton on 24th June 2016.
It was focused on early career researchers working within Supramolecular Chemistry.  The conference was a great opportunity for PhDs and postdocs to present their research and network with their peers and leaders within this field.