Photoinduced Charge Transfer in a Bi2O2Se/CsPbBr3 Heterostructure
An infographic highlighting photodetectors exploiting interfacial charge transfer in nanocrystal heterostructures
We would like to share an infographic highlighting the excellent work by P. K. Giri et al. on understanding the efficient charge transfer in few-layer Bi2O2Se/CsPbBr3 nanocrystal heterostructures! Check out the infographic below to learn more or get the full story from their Nanoscale article.
Understanding the interfacial charge transfer in the CVD grown Bi2O2Se/CsPbBr3 nanocrystal heterostructure and its exploitation in superior photodetection: experiment vs. theory
Md Tarik Hossain, Mandira Das, Joydip Ghosh, Subhradip Ghosh and P. K. Giri
Nanoscale, 2021, DOI: 10.1039/D1NR04470B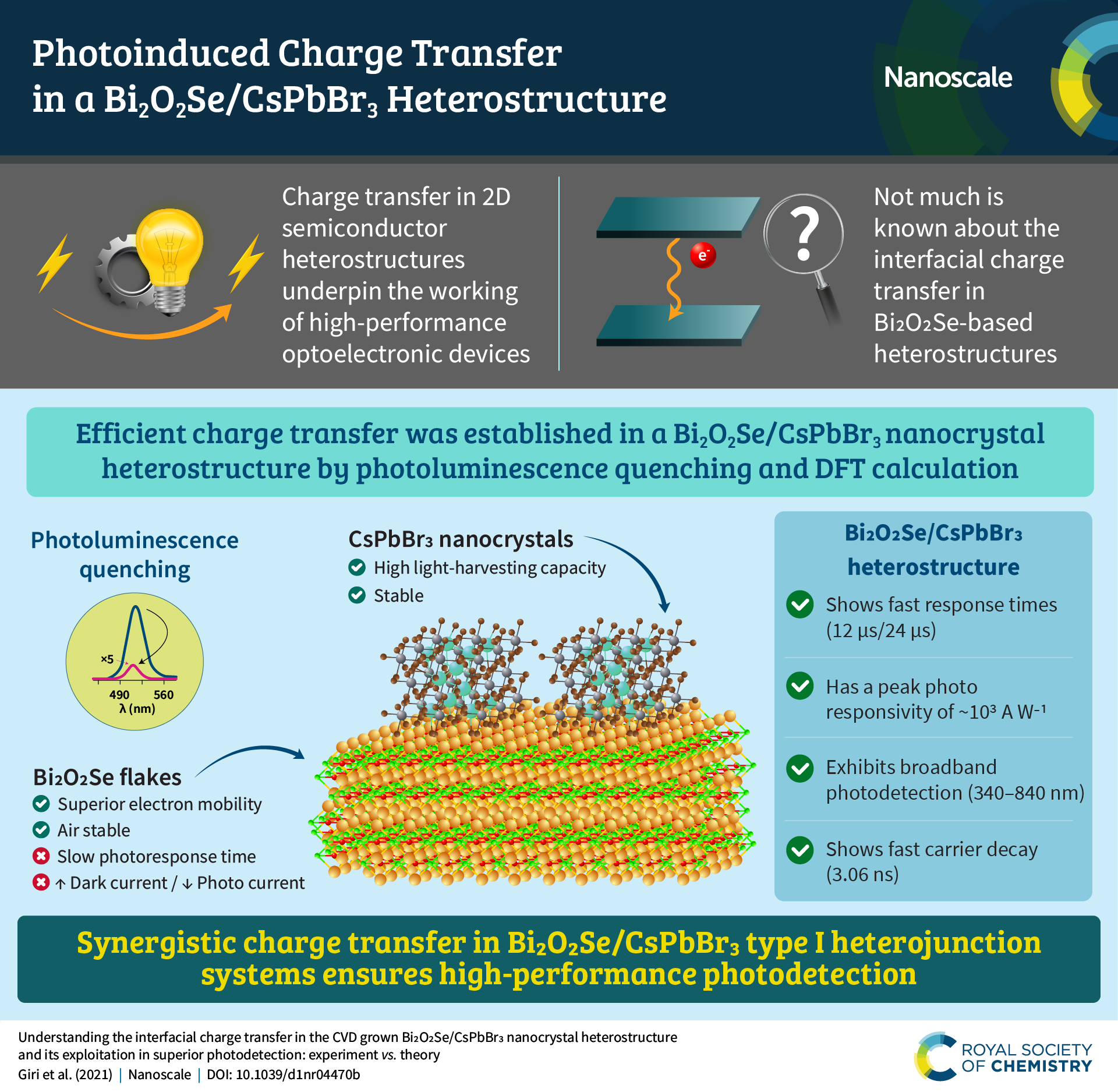 Meet the authors
Md Tarik Hossain

Md Tarik Hossain is presently a PhD research scholar at the department of Physics, Indian Institute of Technology Guwahati, Assam. He obtained his Master degree in Physics from University of Hyderabad and joined the PhD programme at Indian Institute of Technology Guwahati in 2018. His research interests are CVD growth and multifunctional applications of non-van der Walls 2D materials, including photophysics and optoelectronics.

Pravat K. Giri

Prof. P. K. Giri earned his PhD in Physics from Indian Institute of Technology (IIT) Kanpur in 1998 followed by postdoctoral research in CNR IMM, Italy. In 1999, he joined IGCAR, Kalpakkam as a Scientist and later (2001) he moved to IIT Guwahati as a Faculty member in Physics. Presently he is a full Professor of Physics and Nanotechnology at IIT Guwahati. For his outstanding research contributions, he received several awards/ fellowships including ICTP TRIL fellowship (1998), DAE Young Scientist Award (2000), DAAD Exchange visit Fellowship (2010), JSPS Invitation Fellowship for log-term research in Japan (2012), Visiting research fellowship, University of Birmingham, UK (2018), MRSI medal (2020). He is a fellow of Institute of Physics, UK. He has published more 160 journal articles including 8 review articles in high profile international journals and holds one patent to his credit. Currently, his H-index is 41. He is one among the world's top 2% scientists in Applied Physics and Nanoscience area (database published by Stanford University, USA). His research areas of interests are semiconductor nanostructures, 2D materials, nanobiosensors, optoelectronics, nanophotonics etc.