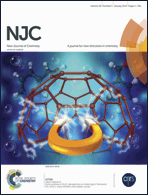 The first outside cover of the year was designed by Dr Lakshi Saikia (CSIR-North East Institute of Science and Technology, India) to illustrate a Letter in which the authors report a facile route for synthesizing Fe3O4 nanoparticles on MIL-101(Cr) support to obtain Fe3O4@MIL-101(Cr) nanocomposite and study its efficiency for the solvent-free oxidation of benzyl alcohol with tert-butyl hydroperoxide (TBHP) as oxidant.
The results show that the catalyst can be easily recycled and could be reused for three times without significant loss in activity. This simple and rapid process can be extended to other metal organic frameworks that are chemically potent and thermally robust.
Facile synthesis of Fe3O4 nanoparticles on metal organic framework MIL-101(Cr): characterization and its catalytic activity.
Mrinal Saikia, Diganta Bhuyan and Lakshi Saikia.
New J. Chem., 2015, 39, 64-67. DOI: 10.1039/C4NJ01312C.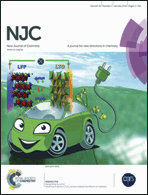 Dr Xiangcheng Sun (University of Waterloo, Canada) has designed the inside cover. In their Perspective review, Dr Sun and his colleagues expose their interest to develop rechargeable batteries for electric vehicles and large stationary power supplies. According to them, LTO anodes could replace the graphite anodes in current lithium-ion batteries because of their high safety, long life, low cost and environmentally benign properties.
In their work, the team introduces recent studies on electronic structure and performance, synthesis methods and strategies for further improvements, including carbon-coating, ion-doping, surface modification, nano-structuring and optimization of the particle morphology of the LTO anode. Furthermore, the authors highlight the practical applications of  commercial spinel LTO lithium-ion batteries and also deal with the future research directions and key developments of this spinel LTO anode.
Advances in spinel Li4Ti5O12 anode material for lithium-ion batteries.
Xiangcheng Sun, Pavle V. Radovanovic and Bo Cui.
New J. Chem., 2015, 39, 38-63. DOI: 10.1039/C4NJ01390E.
To read more, access the full January issue here.