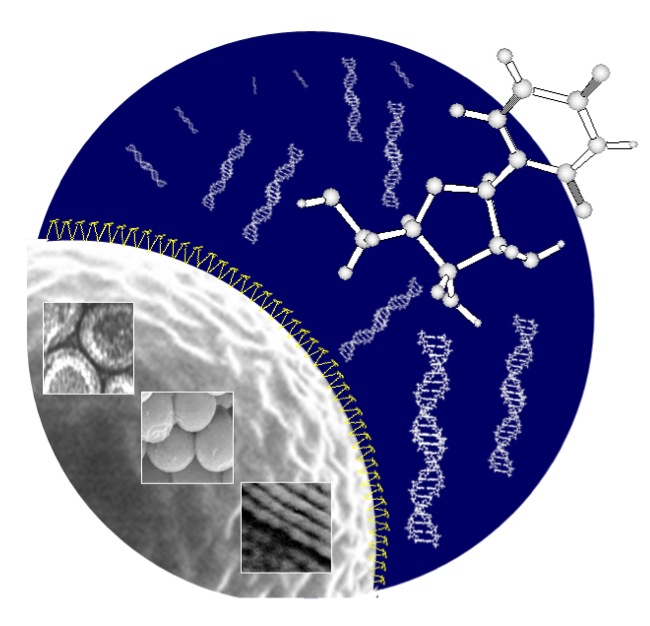 Bioinspired systems in supramolecular chemistry and nanotechnology
Supramolecular systems involving bio and/or bioinspired molecules offer an alternative route for the fabrication of nano-objects. Recent advances in such systems should lead to progress in molecular sensing, controlled release, signaling, etc., and to new developments in numerous fields ranging from soft materials to medicinal chemistry. A good number of supramolecular assemblies featuring natural and/or synthetic molecules are now available.
This themed issue will focus on all aspects regarding the description of new approaches and methodologies, which can usefully be applied to the exploration of bio and/or bioinspired supramolecular systems. Research papers and reviews dealing with the presented fields are welcome for the preparation of this themed issue of the New Journal of Chemistry.
Scope
Biomolecules and their synthetic analogues forming supramolecular systems. Recent progress in the area of bio-inspired materials and/or colloids based on biomolecules and/or bio-inspired derivatives such as nucleosides, nucleotides, oligonucleotides, aminoacids, peptides, lipids, sugars, etc. Smart self-assemblies, nanosystems, biosensors, bioimaging tools, etc.
Guest Editors
Professor Mark Grinstaff (Boston University, USA)
Dr Michel Camplo (University Aix-Marseille, France)
Dr Jean-Manuel Raimundo (University Aix-Marseille, France)
Professor Philippe Barthélémy (INSERM, University of Bordeaux, France)
How to submit and deadline
Contributions to this themed issue are to be made through the NJC manuscript submission website.
• Please clearly indicate in the comments to editor that the contribution is intended for the "Suprabio" themed issue.
• Please  select the correct format for your contribution. These are defined in the table below. More details are given in the January 2014 editorial.
• All contributions will undergo the usual evaluation process.
Download the January 2014 editorial for more information.

The deadline to submit is May 7, 2014.
Contributions received after this date will be considered but inclusion of late papers in the themed issue is not guaranteed.

For further information:
Read NJC
More news
Submit to NJC
Contact us: NJC "at" univ-montp2.fr