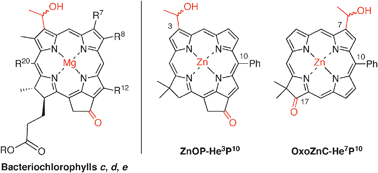 The approaches developed previously to mimic chlorosomal assembly and function (with potential applications that include, for instance, the creation of photosynthesis-inspired solar cells) rely on (i) modification of naturally occurring tetrapyrrole macrocycles and (ii) synthesis and derivatization of porphyrins. In this NJC paper, researchers from Raleigh (North Carolina State University), St. Louis (Washington University), and Riverside (University of California) propose a third approach with the design and preparation of hydroporphyrins. Altogether, 30 new macrocycles were successfully synthesized, characterized and studied. The authors claim that this de novo strategy allows a fine tuning of the steric and electronic characteristics of the synthetic bacteriochlorophyll mimics.
"De novo synthesis and properties of analogues of the self-assembling chlorosomal bacteriochlorophylls" Olga Mass, Dinesh R. Pandithavidana, Marcin Ptaszek, Koraliz Santiago, Joseph W. Springer, Jieying Jiao, Qun Tang, Christine Kirmaier, David F. Bocian, Dewey Holten and Jonathan S. Lindsey New J. Chem., 2011, Advance Article. DOI: 10.1039/C1NJ20611G
Interested to know more? Why not download and read the article today! It's recently been published in NJC and will be FREE to access for a period of 4 weeks.