Chemotaxis of Catalytic Silica-Manganese Oxide "Matchstick" Particles
Adam R. Morgan, Alan B. Dawson, Holly S. Mckenzie, Thomas S. Skelhon, Richard Beanland, Henry P. W. Franks and Stefan A. F. Bon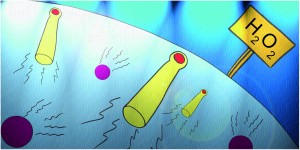 Particles that can undergo directed self-propulsion are desirable for colloidal cargo delivery and self-assembly. This paper describes the synthesis of silica–manganese oxide "matchstick" colloids that undergo catalytic self-propulsion by consumption of hydrogen peroxide. Chemotaxis is observed when particles are placed in a fuel gradient.
Mater. Horiz., 2014, DOI: 10.1039/c3mh00003f, Advance Article
Highly dispersible polypyrrole nanospheres for advanced nanocomposite ultrafiltration membranes
Yaozu Liao, Thomas P. Farrell, Gregory R. Guillen, Minghua Li, James A. T. Temple, Xin-Gui Li, Eric M. V. Hoek and Richard B. Kaner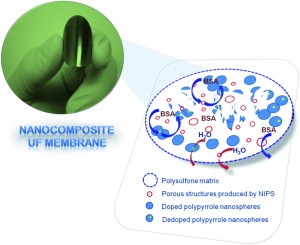 In this paper, highly dispersible polypyrrole nanospheres were synthesized and used to produce polysulfone nanocomposite ultrafiltration membranes by a non-solvent induced phase separation process. The composite networks formed between polypyrrole nanospheres and polysulfone nanocomposites lead to higher porosity, hydrophilicity, surface charge, thermal stability, and water permeability, but slightly lower protein rejection.
Mater. Horiz., 2014, DOI: 10.1039/c3mh00049d, Advance Article
Production of heavily n- and p-doped CVD graphene with solution- processed redox-active metal-organic species
Sergio A. Paniagua, Jose Baltazar, Hossein Sojoudi, Swagat K. Mohapatra, Siyuan Zhang, Clifford L. Henderson, Samuel Graham, Stephen Barlow and Seth R. Marder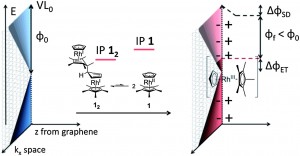 In this paper, CVD graphene has been n- and p-doped using redox-active, solution processed metal–organic complexes. Electrical measurements, photoemission spectroscopies, and Raman spectroscopy were used to characterise the doped films and give insights into the changes.
Mater. Horiz., 2014, DOI: 10.1039/c3mh00035d, Advance Article
Vesicle budding from polymersomes templated by microfluidically prepared double emulsions
Julian Thiele, Venkatachalam Chokkalingam, Shaohua Ma, Daniela A. Wilson and Wilhelm T. S. Huck

Many approaches to mimic and understand the dynamics of vesicle budding lack precise control over vesicle membrane properties or require external stimuli to induce budding. This paper reports the use of copolymer loaded double-emulsion droplets to precisely control size, size distribution, composition and morphology of giant polymersomes. By tuning the copolymer concentration in the polymersome membrane, the authors show how they identify conditions under which vesicles spontaneously bud from the polymersome surface. These findings have important implications for the design of copolymer membranes and contribute to the understanding of polymersome formation from double emulsions.
Mater. Horiz., 2014, DOI: 10.1039/c3mh00043e, Advance Article
Follow the latest journal news on Twitter @MaterHoriz or go to our Facebook page.