We are delighted to announce that Dr. Maria Duca will be joining RSC Medicinal Chemistry as an Associate Editor from the 1st June.

About Maria: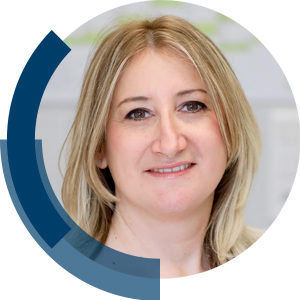 Maria Duca completed her undergraduate studies in Pharmacy and Medicinal Chemistry at the University of Bologna, Italy, in the Faculty of Pharmacy. She obtained her PhD in Molecular Biochemistry under the supervision of Dr. Paola B. Arimondo at the National Natural History Museum in Paris, France, working on topoisomerase II inhibitors. A 2-year post-doctoral training in Sydney Hecht's lab in the Department of Chemistry at the University of Virginia, USA, allowed her to pursue the study of nucleic acids working on targeted protein mutagenesis upon chemical modification of tRNAs.
Maria is now head of the Targeting of Nucleic Acids research group in the Institute of Chemistry of Nice (Université Côte d'Azur – CNRS), after CNRS recruitment as a Research Scientist in 2007. Her research activities focus on the targeting of non-coding RNAs using synthetic small molecules toward innovative therapeutic approaches for anticancer, antiviral and antimicrobial applications.
Submit your research to Maria from 1st June 2021!

You can find out about all our Associate Editors and the full Editorial Board on our webpage.
---
Check out a selection of Maria's recent publications with the RSC:
Synthetic small-molecule RNA ligands: future prospects as therapeutic agents
A. Di Giorgio and M. Duca*
Med. Chem. Commun., 2019, 10, 1242-1255
Functionalized C-nucleosides as remarkable RNA binders: targeting of prokaryotic ribosomal A-site RNA
Jean-Patrick Joly, Marc Gaysinski, Lorena Zara, Maria Duca* and Rachid Benhida*
Chem. Commun., 2019, 55, 10432-10435
Building of neomycin–nucleobase–amino acid conjugates for the inhibition of oncogenic miRNAs biogenesis
Duc Duy Vo, Cécile Becquart, Thi Phuong Anh Tran, Audrey Di Giorgio, Fabien Darfeuille, Cathy Staedel and  Maria Duca*
Org. Biomol. Chem., 2018, 16, 6262-6274