The use of microfluidics to test the safety of drinking water is growing increasingly. Although several microfluidic concepts are already shown to detect pathogens in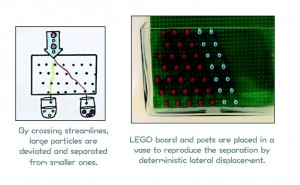 water useful for this industry, the authors of this article focus on the use of such a device for a different audience: young children.  They show that it can be perfectly used as an educational tool to make children more aware of the importance of clean water and the advantages of microfluidics.
In total six modules are developed, each of them having own teaching objectives and materials. The modules can be used separately and both standardized techniques as well as new microfluidic techniques are treated. For instance the use of the microfluidic separation technique deterministic lateral displacement to separate pathogens out of the water is visualized on a macroscale using LEGO® and particles made with FIMO® clay. The good particles are smaller in diameter than the bad ones, making separation in on macroscale using viscous media (in this case shower gel) possible.
A complete activity is made by the authors, that shows a new and original approach to make young children aware of the challenges in science, technology, engineering and mathematics. By using simple components in combination with cartoons and descriptions, the child can remove the bad pathogens from drinking water in about 30 minutes.
For more information, download the full article now – access is free* for a limited time only!
Angry Pathogens, how to get rid of them: introducing microfluidics for waterborne pathogen separation to children
Melanie Jimenez and Helen L.Bridle
DOI: 10.1039/C4LC0944D
* Access is free through a registered RSC account until 23rd January 2015.
About the webwriter
Dr Loes Segerink is an Assistant Professor in the BIOS Lab-on-a-Chip Group at the University of Twente. Read more about her research interests on her homepage.