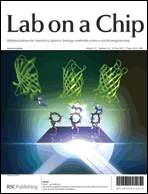 Research led by Jan van Hest and Floris Delft at the Institute for Molecules and Materials, The Netherlands, is highlighted by the front cover artwork. Their research finds a robust way to control the immobilization of azide-containing ligands on a surface for surface plasmon resonance sensing (SPR) using strain-promoted cycloaddition on a cyclooctyne-modified surface. Don't forget our cover articles are free to access for 6 weeks*!
Site-specific peptide and protein immobilization on surface plasmon resonance chips via strain-promoted cycloaddition Angelique
E. M. Wammes, Marcel J. E. Fischer, Nico J. de Mol, Mark B. van Eldijk, Floris P. J. T. Rutjes, Jan C. M. van Hest and Floris L. van Delft  
DOI: 10.1039/C3LC41338A
---
On the distinctive outside back cover, fascinating collaborative work between the Ohio Center for Microfluidic Innovation at University of Cincinnati and the U.S. Air Force Research Laboratory on a device termed artificial microfluidic skin, which mimics human perspiration with a view to replacing human and animal testing of wearable materials.  
Artificial microfluidic skin for in vitro perspiration simulation and testing
Linlin Hou, Joshua Hagen, Xiao Wang, Ian Papautsky, Rajesh Naik, Nancy Kelley-Loughnane and Jason Heikenfeld  
DOI: 10.1039/C3LC41231H
---
Of course Issue 10 also includes Research Highlights from Ali Khademhosseini. In this issue, he focuses on lab-on-DVD devices for HIV diagnosis, atherosclerosis and muscle repair.
Research highlights
João Ribas, Mark W. Tibbitt, Mehmet R. Dokmeci and Ali Khademhosseini 
DOI: 10.1039/C3LC90032K
---
Issue 10 contains plenty of significant primary research, including three Technical Innovation articles:
Measuring material relaxation and creep recovery in a microfluidic device
Alison E. Koser, Lichao Pan, Nathan C. Keim and Paulo E. Arratia
DOI: 10.1039/C3LC41379A
Optically clear alginate hydrogels for spatially controlled cell entrapment and culture at microfluidic electrode surfaces
Jordan F. Betz, Yi Cheng, Chen-Yu Tsao, Amin Zargar, Hsuan-Chen Wu, Xiaolong Luo, Gregory F. Payne, William E. Bentley and Gary W. Rubloff
DOI: 10.1039/C3LC50079A
Multiplexed ionic current sensing with glass nanopores
Nicholas A. W. Bell, Vivek V. Thacker, Silvia Hernández-Ainsa, Maria E. Fuentes-Perez, Fernando Moreno-Herrero, Tim Liedl and Ulrich F. Keyser
DOI: 10.1039/C3LC50069A
Have a quick browse of the contents pages of Issue 10 here
 *Free access to individuals is provided through an RSC Publishing personal account. Registration is quick, free and simple