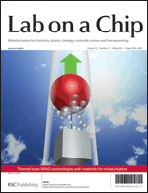 Lab on a Chip is delighted to announce the publication of a themed issue dedicated to Analytical miniaturization and nanotechnologies, published in collaboration with the III International Workshop on Analytical Miniaturization and NANOtechnologies to be held next month in Barcelona. The issue was guest edited by Arben Merkoçi and Jörg P. Kutter, who introduce the issue in an editorial on the use of nanotechnologies and nanomaterials for the design and applications of lab-on-a-chip and other miniaturized analytical systems
We hope you will enjoy reading this collection of articles.
Tutorial Review
---
Lab-in-a-tube: ultracompact components for on-chip capture and detection of individual micro-/nanoorganisms
Elliot J. Smith, Wang Xi, Denys Makarov, Ingolf Mönch, Stefan Harazim, Vladimir A. Bolaños Quiñones, Christine K. Schmidt, Yongfeng Mei, Samuel Sanchez and Oliver G. Schmidt
Lab Chip, 2012, 12, 1917-1931
DOI: 10.1039/C2LC21175K
Critical Reviews
---
Nanomaterials and lab-on-a-chip technologies
Mariana Medina-Sánchez, Sandrine Miserere and Arben Merkoçi
Lab Chip, 2012, 12, 1932-1943
DOI: 10.1039/C2LC40063D
Cargo-towing synthetic nanomachines: Towards active transport in microchip devices
Joseph Wang
Lab Chip, 2012, 12, 1944-1950
DOI: 10.1039/C2LC00003B
Carbon nanotube based stationary phases for microchip chromatography
Klaus B. Mogensen and Jörg P. Kutter
Lab Chip, 2012, 12, 1951-1958
DOI: 10.1039/C2LC40102A
Communications
---
Glass/PDMS hybrid microfluidic device integrating vertically aligned SWCNTs to ultrasensitive electrochemical determinations
Fernando Cruz Moraes, Renato Sousa Lima, Thiago Pinotti Segato, Ivana Cesarino, Jhanisus Leonel Melendez Cetino, Sergio Antonio Spinola Machado, Frank Gomez and Emanuel Carrilho
Lab Chip, 2012, 12, 1959-1962
DOI: 10.1039/C2LC40141J
Contactless conductivity biosensor in microchip containing folic acid as bioreceptor
Renato S. Lima, Maria H. O. Piazzetta, Angelo L. Gobbi, Ubirajara P. Rodrigues-Filho, Pedro A. P. Nascente, Wendell K. T. Coltro and Emanuel Carrilho
Lab Chip, 2012, 12, 1963-1966
DOI: 10.1039/C2LC40157F
Papers
---
Bipolar electrochemistry for cargo-lifting in fluid channels
Gabriel Loget and Alexander Kuhn
Lab Chip, 2012, 12, 1967-1971
DOI: 10.1039/C2LC21301J
Capillary soft valves for microfluidics
Martina Hitzbleck, Laetitia Avrain, Valerie Smekens, Robert D. Lovchik, Pascal Mertens and Emmanuel Delamarche
Lab Chip, 2012, 12, 1972-1978
DOI: 10.1039/C2LC00015F
Microreactor with integrated temperature control for the synthesis of CdSe nanocrystals
Sara Gómez-de Pedro, Cynthia S. Martínez-Cisneros, Mar Puyol and Julián Alonso-Chamarro
Lab Chip, 2012, 12, 1979-1986
DOI: 10.1039/C2LC00011C
Nanophotonic lab-on-a-chip platforms including novel bimodal interferometers, microfluidics and grating couplers
Daphné Duval, Ana Belén González-Guerrero, Stefania Dante, Johann Osmond, Rosa Monge, Luis J. Fernández, Kirill E. Zinoviev, Carlos Domínguez and Laura M. Lechuga
Lab Chip, 2012, 12, 1987-1994
DOI: 10.1039/C2LC40054E
Printed two-dimensional photonic crystals for single-step label-free biosensing of insulin under wet conditions
Tatsuro Endo, Masaya Sato, Hiroshi Kajita, Norimichi Okuda, Satoru Tanaka and Hideaki Hisamoto
Lab Chip, 2012, 12, 1995-1999
DOI: 10.1039/C2LC40066A
On-chip electrochemical detection of CdS quantum dots using normal and multiple recycling flow through modes
Mariana Medina-Sánchez, Sandrine Miserere, Sergio Marín, Gemma Aragay and Arben Merkoçi
Lab Chip, 2012, 12, 2000-2005
DOI: 10.1039/C2LC00007E
High NIR-purity index single-walled carbon nanotubes for electrochemical sensing in microfluidic chips
Diana Vilela, Alejandro Ansón-Casaos, María Teresa Martínez, María Cristina González and Alberto Escarpa
Lab Chip, 2012, 12, 2006-2014
DOI: 0.1039/C2LC40099E
Do you work at forefront of nanotechnology for miniaturisation?
Submit your next piece of exciting research to Lab on a Chip.