During 2011 we published a number of topical reviews on a wide range of topics by expert researchers in their fields.  We've collected some of them below but take a look here for the whole list, we hope you'll find something interesting in your area.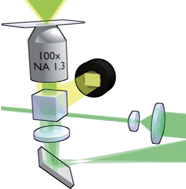 Holographic optical tweezers and their relevance to lab on chip devices
Miles Padgett and Roberto Di Leonardo
Lab-on-a-chip based immunosensor principles and technologies for the detection of cardiac biomarkers: a review
Mazher-Iqbal Mohammed and Marc P. Y. Desmulliez
Nanomanipulation using near field photonics
David Erickson, Xavier Serey, Yih-Fan Chen and Sudeep Mandal
Microfluidics for food, agriculture and biosystems industries
Suresh Neethirajan, Isao Kobayashi, Mitsutoshi Nakajima, Dan Wu, Saravanan Nandagopal and Francis Lin
Optoelectrofluidic platforms for chemistry and biology
Hyundoo Hwang and Je-Kyun Park
Disposable microfluidic substrates: Transitioning from the research laboratory into the clinic
Jason S. Kuo and Daniel T. Chiu
Miniaturized isothermal nucleic acid amplification, a review
Peter J. Asiello and Antje J. Baeumner
If you have an idea for a review article that hasn't been covered and you would like to see included, contact the Editorial Office – we'd love to hear from you.