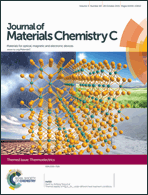 Journal of Materials Chemistry C is pleased to announce the publication of the Chemistry of Thermoelectric Materials themed collection.
Thermoelectrics are gaining increasing interests due to their important potential applications. Many novel thermoelectric materials have been developed by manipulating the doping, electronic structure, phonon structure and scattering, as well as microstructure. Chemistry affects all of these enabling, for example, the tuning and engineering of the electron band structure or phonon scattering.
The collection broadly covers the chemistry aspects of thermoelectric materials and is Guest Edited by G. Jeffrey Snyder (Northwestern University, USA).
Below are a selection of some of the high quality articles, and the full collection can be found here.
Thermoelectric properties of materials with nontrivial electronic topology
Koushik Pal, Shashwat Anand and Umesh V. Waghmare
J. Mater. Chem. C, 2015, 3, 12130-12139
DOI: 10.1039/C5TC02344K
---
Crystal structure and thermoelectric properties of Sr–Mo substituted CaMnO3: a combined experimental and computational study
D. Srivastava, F. Azough, R. Freer, E. Combe, R. Funahashi, D. M. Kepaptsoglou, Q. M. Ramasse, M. Molinari, S. R. Yeandel, J. D. Baran and S. C. Parker
J. Mater. Chem. C
, 2015, Advance Article
DOI
: 10.1039/C5TC02318A
---
Morphological effects on the thermoelectric properties of Ti0.3Zr0.35Hf0.35Ni1+δSn alloys following phase separation
Oshrat Appel, Tsvika Zilber, Sergey Kalabukhov, Ofer Beeri and Yaniv Gelbstein
J. Mater. Chem. C
, 2015,
3
, 11653-11659
DOI
: 10.1039/C5TC03214H