Young Analytical Scientists
---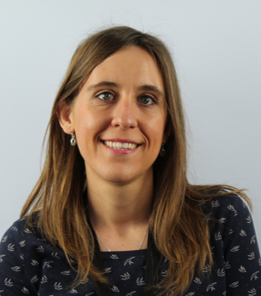 JAAS is excited to introduce Isabel Abad Alvaro as one of our Young Analytical Scientists.
Isabel Abad Alvaro is a researcher in the Inorganic Analysis Group lead by Heidi Goenaga-Infante at the National Measurement Laboratory (NML) in LGC (UK).
She completed her Bachelor's and Master's Degrees in Chemistry at the University of Zaragoza (Spain) and obtained her PhD in Analytical Science on Chemistry at the University of Zaragoza in September 2017 with Cum Laude and "European Doctorate" Mentions, under the supervision of Prof Francisco Laborda and Dr Eduardo Bolea Morales. Her PhD Thesis focused on the development of a platform of analytical methods for the analysis of nanomaterials in environmental and biological systems based on the use of inductively coupled plasma mass spectrometry (ICP-MS), both in single particle mode (spICP-MS) and coupled to asymmetrical field flow fractionation (AF4).
In July 2018, Dr Abad Alvaro joined LGC where her work has mainly focused in nano-metrology. During the past 2.5 years she has been strongly involved in the development of multi-modal approaches for the characterisation of nanomaterials in complex samples and their application to solve problems in advanced manufacturing and healthcare. Some of this work has been performed in collaboration with scientists across multiple disciplines and from key academic groups and national measurement institutes worldwide. She has also played a major role in the characterisation of new reference nano-materials. Dr Abad Alvaro is co-author of nine peer-reviewed publications in high calibre journals including the Journal of Analytical Atomic Spectrometry (JAAS), Analytical and Bioanalytical Chemistry, Metallomics and Analyst and, has contributed with several works to different national and international conferences, both as poster and oral participations, having been awarded with a poster prize at the European Winter Conference on Plasma Spectrochemistry in 2019 (EWCPS 2019). She is also co-author of a book chapter dedicated to the Characterisation of nanomaterials in complex samples using field-flow-fractionation (FFF) and has contributed to the drafting of an ISO Technical report on the use of spICP-MS for the determination of nanoparticle number concentration.
Read Dr Abad Alvaro's paper An insight into the determination of size and number concentration of silver nanoparticles in blood using single particle ICP-MS (spICP-MS): feasibility of application to samples relevant to in vivo toxicology studies.
J. Anal. At. Spectrom., 2021,36, 1180-1192, DOI: 10.1039/D1JA00068C