Young Analytical Scientists
---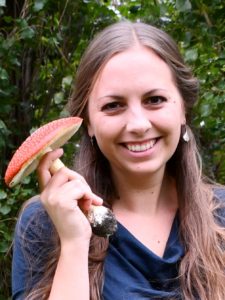 JAAS is excited to announce Simone Braeuer as one of our Young Analytical Scientists.
Simone Braeuer obtained her PhD in 2018 from the University of Graz (Austria) in the research group of Professor Walter Goessler. The following year, she started a PostDoc fellowship at Ghent University (Belgium) in the Atomic & Mass Spectrometry research group of Professor Frank Vanhaecke.
Her work at the University of Graz focused on the development and application of ICPMS and HPLC-ICPMS methods for the determination of trace element species in environmental context. During her PhD, her researched focussed mainly on arsenic in mushrooms. Since mushrooms also contain other elements, sometimes in surprising concentrations and species, she soon became interested in these as well. Her fascination with ICPMS and mushrooms grew so big that she is still investigating mushrooms in her current PostDoc project, now via multi-collector ICPMS and laser ablation ICPMS.
Dr Braeuer considers multidisciplinary and international collaborations both fascinating and essential for environmental research. She also believes that high-quality, state-of-the-art analytical chemistry is of key importance – for environmental studies as well as in the rest of life.
Read Dr Braeuer's paper, Determination of the naturally occurring vanadium-complex amavadin in Amanita muscaria with HPLC-ICPMS.
---
J. Anal. At. Spectrom., 2021,36, 954-967, DOI: 10.1039/D0JA00518E