We will be publishing a web themed issue comprising work from Central and Eastern Europe in the field of analytical atomic spectrometry.  The aim is to highlight, to the wider international community, the achievements in analytical atomic and mass spectrometry made by the researches from this area.
The Guest Editors for this collection are Professor Jiří Dědina of Charles University in Prague, and Professor Pawel Pohl of Wroclaw University of Technology.
Manuscripts are welcome until the submission deadline on 1 June 2012.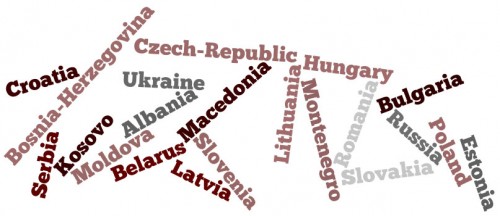 If you are an atomic spectrometrist in Central and Eastern Europe, you can submit your paper today!
All articles will be peer-reviewed, and to be suitable for publication, must meet the usual quality and significance standards of the journal.  Please indicate in your 'Comments to the Editor' or covering letter that your article is to be considered for the Central and Eastern Europe web theme.
Accepted articles will be published as Advance Articles online as soon as they are ready, and published in the next available print issue.  All articles will be collected together and featured in an online web theme, which will be available and promoted to our readers in early 2013.
Here are some examples of recent JAAS content from authors in Central and Eastern Europe:
Plasma pencil as an excitation source for atomic emission spectrometry
Lukáš Novosád, Aleš Hrdlička, Pavel Slavíček, Vítězslav Otruba and Viktor Kanický
J. Anal. At. Spectrom., 2012, 27, 305-309
DOI: 10.1039/C1JA10278H
Mass spectrometric study of the structures and ionization potential of LinI (n = 2, 4, 6) clusters
Jasmina Đustebek, Suzana Veličković, Stanka Jerosimić and Miomir Veljković
J. Anal. At. Spectrom., 2011, 26, 1641-1647
DOI: 10.1039/C1JA10078E
Effect of matrices with low second ionization potentials on analytical signals in inductively coupled plasma mass spectrometry
Petras Serapinas, Žilvinas Ežerinskis and Vida Juzikienė
J. Anal. At. Spectrom., 2011, 26, 1997-2005
DOI: 10.1039/C1JA10020C
Technical Note: Loss of di- and trimethylarsine on Nafion membrane dryers following hydride generation
Petra Taurková, Milan Svoboda, Stanislav Musil and Tomáš Matoušek
J. Anal. At. Spectrom., 2011, 26, 220-223
DOI: 10.1039/C0JA00136H
From themed issue Speciation
Effect of the external electrical circuit on the ignition of the glow discharge in a Grimm-type cell
Aranka Derzsi and Zoltán Donkó
J. Anal. At. Spectrom., 2011, 26, 792-797
DOI: 10.1039/C0JA00174K
From themed issue Glow Discharge Spectroscopy