The latest issue of Green Chemistry is now available online and is packed with the usual high quality research.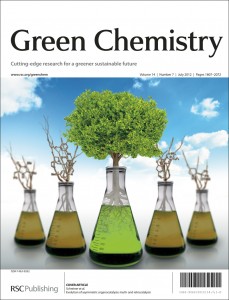 The front cover of this issue showcases the Critical Review by Raffael Wende and Peter Schreiner from Justus-Liebig University in Giessen, Germany, on the evolution of asymmetric organocatalysis.  The authors focus on the recent developments into organomulticatalysis, i.e.the combination of several distinct organocatalysts enabling consecutive reactions to be conducted in one pot. Schreiner and Wende also look at multicatalysts – catalysts with a single backbone with several independent, orthogonally reactive moieties attached.  The review highlights the impressive advantages of asymmetric organomulticatalysis and look at the development that have occurred from it's very beginnings to the latest multicatalyst systems. 
Evolution of asymmetric organocatalysis: multi- and retrocatalysis, Raffael C. Wende and Peter R. Schreiner, Green Chem., 2012, 14, 1821-1849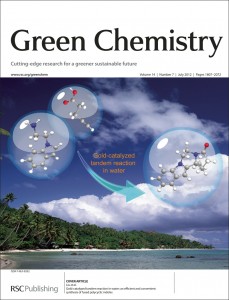 The inside front cover highlights work by Hong Liu and colleagues from the Shanghai Institute of Materia Medica, Chinese Academy of Sciences, China, who reported the gold catalysed synthesis of fused polycyclic indoles.  Substituted 2-(1H-indol-1-yl)alkylamines were reacted with alkynoic acids in water under microwave irradiation for 30 min giving the products in excellent yields.  This procedure proceeds with high atom economy and leads to the generation of two rings, together with the formation of one new C-C bond and two new C-N bonds in a single operation. 
Gold-catalyzed tandem reaction in water: an efficient and convenient synthesis of fused polycyclic indoles, Enguang Feng, Yu Zhou, Fei Zhao, Xianjie Chen, Lei Zhang, Hualiang Jiang and Hong Liu, Green Chem., 2012, 14, 1888-1895
These articles are free to access for 6 weeks! 
Keep up-to-date with the latest content in Green Chemistry by registering for our free table of contents alerts!