We are delighted to welcome Professor Honggang Fu, Heilongjiang University, China, as an Associate Editor for EES Catalysis, a new open access journal publishing high quality research on energy and environmental catalysis.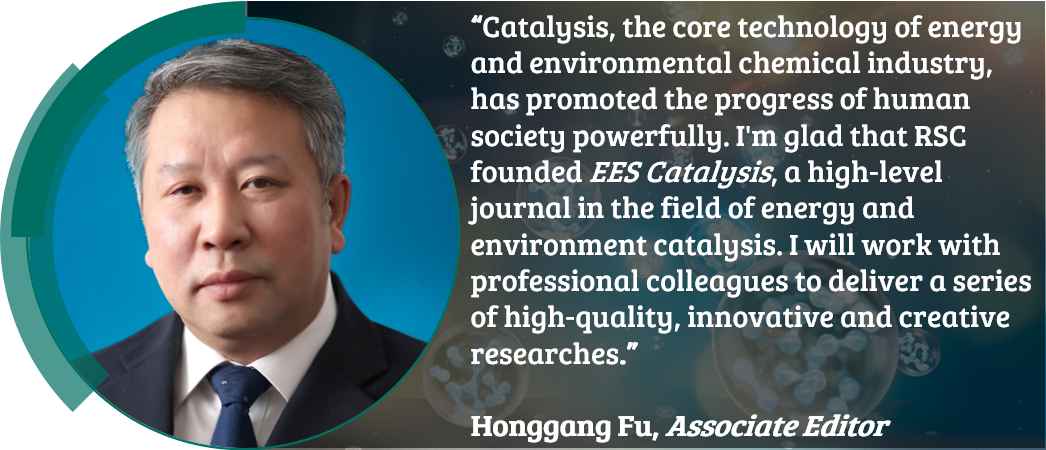 Learn more about our new Associate Editor
Professor Honggang Fu is currently a professor and director of Key Laboratory of Functional Inorganic Material Chemistry, Ministry of Education, Heilongjiang University. He was an appointed Cheung Kong Distinguished Professor by the Ministry of Education of China (2009), a recipient of "Leading Personnel of the Ten Thousand Talents Program" (2013), and a National candidate of the New Century Millions of Talents Project (2007) by the Chinese government. His research expertise is in the material design, structural regulation, and catalytic mechanism associated with the photocatalytic/electrocatalytic hydrogen production, CO2 reduction, organic synthesis/conversion/degradation. He has co-authored more than 380 papers in refereed journals (over 26,000 citations with h-index 86), including J. Am. Chem. Soc., Angew. Chem., Adv. Mater., Nat. Commun., and so on.
Read some of his recent papers below:
Recent advances of biomass derived carbon-based materials for efficient electrochemical energy devices
Guangying Zhang, Xu Liu, Lei Wang and Honggang Fu
Journal of Materials Chemistry A, 2022, 10, 9277-9307
Hollow CoP spheres assembled from porous nanosheets as high-rate and ultra-stable electrodes for advanced supercapacitors
Li Sun, Zhenbin Xie, Aiping Wu, Chungui Tian, Dongxu Wang, Ying Gu, Yachen Gao and Honggang Fu
Journal of Materials Chemistry A, 2021, 9, 26226-26235
EES Catalysis is now open for submissions. Find out more on the journal webpage, sign up to e-Alerts or submit your manuscript now.
Please join us in welcoming Professor Fu to EES Catalysis.