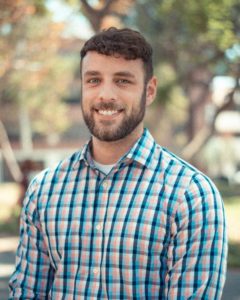 Dr. Adam L. Smith is an Assistant Professor in the Astani Department of Civil and Environmental Engineering at the University of Southern California. He received his M.S.E. and Ph.D. from the University of Michigan in Environmental Engineering in 2011 and 2014, respectively. He received his B.S. in Civil Engineering from Marquette University in 2009. The Smith Research Group develops biotechnologies for resource recovery from waste streams.
Read Adam's Emerging Investigator article "revisiting greenhouse gas mitigation from conventional activated sludge and anaerobic-based wastewater treatment systems" and find out more about him in the interview below:
Your recent Emerging Investigator Series paper focuses on greenhouse gas mitigation from conventional activated sludge and anaerobic-based wastewater treatment systems. How has your research evolved from your first article to this most recent article?
My first research endeavours focused on anaerobic membrane bioreactor development for domestic wastewater treatment at psychrophilic temperatures. Although that biotechnology still serves as the basis for many of my ongoing research projects, I have expanded my research portfolio by going deeper into understanding microbial ecology of anaerobic systems, infusing materials science principles to fabricate novel membranes, investigating bioelectrochemical systems compatible with mainstream anaerobic treatment, and exploring more contemporary issues such as greenhouse gas emissions and antibiotic resistance. I have also expanded from focusing exclusively on domestic wastewater to also investigating higher-strength waste streams (e.g., food waste, animal manure, and wastewater sludges).
What aspect of your work are you most excited about at the moment?
I am most excited about our ongoing work investigating antibiotic resistance in mainstream anaerobic treatment systems. My collaborator Dr. Lauren Stadler at Rice University and I are characterizing resistance profiles during anaerobic membrane bioreactor treatment of domestic wastewater to evaluate correlations between influent antibiotic concentrations, understand dynamics of horizontal gene transfer, and establish operational protocols that limit resistance in effluents intended for reuse applications.
In your opinion, what are the most important questions to be asked/answered in this field of research?
Mainstream anaerobic treatment is an exciting research area that could drastically change how we manage wastewater. However, we still need to develop new energy-efficient membrane fouling control strategies and technologies that recover effluent dissolved methane. We also need a better mechanistic understanding of trace contaminant fate in these systems. Significant advancements in these areas are needed before anaerobic membrane bioreactors are ready for full-scale implementation.
What do you find most challenging about your research?
Doing truly transformative research is always a challenge, and I know most of us cringe when we hear that word! It is all too easy to fall into a rhythm of incremental research that winds up as noise in our crowded field.
In which upcoming conferences or events may our readers meet you?
I will be attending the North American Membrane Society Conference, AEESP Conference, and IWA Anaerobic Digestion Conference this coming summer.
How do you spend your spare time?
I enjoy travelling, hiking, skiing, and playing with my munchkin cat Sprinkles Bodinkles.
Which profession would you choose if you were not a scientist?
Astronaut! I went to Space Camp as a child and have been obsessed ever since. Maybe I will submit an application next time NASA is accepting them!
Can you share one piece of career-related advice or wisdom with other early career scientists?
Develop a diverse research portfolio that excites you. Do not be afraid to journey into new disciplines that are outside of your wheelhouse.