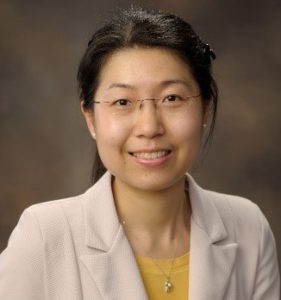 We are delighted to introduce our latest Emerging Investigator, Yujie Men! 
Dr. Yujie Men joined the Department of Civil and Environmental Engineering as an Assistant Professor in March 2016. Before that, she worked as a postdoctoral researcher in the Engineering Research Center for Re-inventing the Nation's Urban Water Infrastructure at University of California, Berkeley, and a postdoctoral scientist at Swiss Federal Institute of Aquatic Science and Technology. She holds a B.S. and M.S. in Environmental Engineering from Tsinghua University, and earned her Ph.D. in Civil and Environmental Engineering at University of California at Berkeley. Her research focuses on the development of sustainable biotechnologies for cleaner water and a safer and more sustainable environment, by advancing the fundamental knowledge of microbial metabolic diversities and microbe-microbe interactions in built and natural environments. She is a member of the International Society for Microbial Ecology, the American Society for Microbiology, the American Chemical Society and the Association of Environmental Engineering and Science Professors.
Read Yujie's Emerging Investigators article "Occurrence and fate of emerging organic contaminants in wastewater treatment plants with an enhanced nitrification step," and find out more about her in the interview below:
Your recent Emerging Investigator Series paper focuses on occurrence and fate of emerging organic contaminants in wastewater treatment plants. How has your research evolved from your first article to this most recent article?
My first article is on bioremediation of chloroethenes, which are traditional organic contaminants in subsurface areas. This Emerging Investigator Series paper focuses on emerging organic contaminants in wastewater: their occurrence and transformation (mostly biological). No matter how the target pollutants change, from canonical to emerging ones and from anaerobic/anoxic subsurface environments to aerobic surface environments, my research goal remains the same: to obtain fundamental understanding of environmental microbial communities (physiological, molecular and ecological properties) and to apply to environmental biotechnologies solving real problems.
What aspect of your work are you most excited about at the moment?
I am most excited about my work on understanding interactions between environmental pollutants and the microbial communities they are exposed to. This includes how microbes transform/degrade the anthropogenic compounds and how the exposure to xenobiotic chemicals affect the metabolism of microorganisms.
In your opinion, what impact do you think this research will have on the development of wastewater treatment plants?
This research reveals important but limited roles of biological wastewater treatment steps (secondary treatment and the enhanced nitrification step) regarding the removal of emerging organic contaminants. Compounds recalcitrant to biotransformation were identified. Formation of incomplete transformation products and product-to-parent transformation were also observed. These findings suggest that advanced treatment of the residuals of emerging organic contaminants after biological treatment is needed in wastewater treatment plants for water reuse purposes, which require a significant reduction of dissolved organic carbon in the effluent.
What do you find most challenging about your research?
It is more and more challenging to find one single approach efficient enough to treat some emerging organic contaminants due to their persistence. A treatment train system combining physical, chemical and biological approaches would be needed to achieve effective separation and treatment.
In which upcoming conferences or events may our readers meet you?
I plan to attend ACS, ASM general meetings, and Gordon Research Conference in Applied and Environment Microbiology in 2019.
How do you spend your spare time?
I enjoy staying with my family and playing with my little one after work. If I still have extra time, I would go for Zumba and swimming. I hope I can go hiking with my family in a year or two when my little one grows bigger.
Which profession would you choose if you were not a scientist?
I would like to become a surgeon.
Can you share one piece of career-related advice or wisdom with other early career scientists?
A successful career is one you are fascinated about, one that makes you eager to learn more and persistent when facing hurdles, one that gives you a feeling of accomplishment and confidence, and one that never has a shortcut to reach.