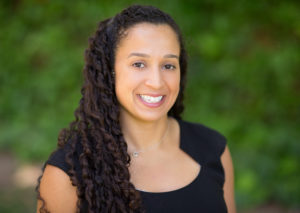 Niveen Ismail is currently an assistant professor in the Picker Engineering Program at Smith College, an all-women's liberal arts college. She received her MS (2011) and PhD (2015) in Environmental Engineering from Stanford University. She received her MS in Biology (2010) from Temple University and B.S. in Chemical Engineering (2003) from New Jersey Institute of Technology. The Ismail research lab examines the use of natural systems to improve water quality with a focus on the understanding the interaction of filter feeders with aquatic contaminants.
Read her Emerging Investigator article "Emerging investigator series: interacting effects of environmental factors on Daphnia magna removal of Escherichia coli from wastewater" and read more about her in the interview below:
Your recent Emerging Investigator Series paper focuses on removal of E. colifrom wastewater with zooplankton. How has your research evolved from your first article to this most recent article?
My research interests have expanded quite a bit with respect to the suite of contaminants we study in my lab, which now includes microbial pollutants, metals, microplastics, and nanoparticles. This particular area of research examining zooplankton interaction with microbial pollutants has evolved over the years to include more complex matrices and experimental designs that better mimic environmental systems.  My very first published paper looked at PCB maternal transfer in diamondback terrapins. I have been interested in aquatic contaminants since I started conducting research as an undergraduate.
What aspect of your work are you most excited about at the moment?
It's hard to pick one specific topic, but I am really excited to have my undergraduate students back in lab after a long hiatus due the pandemic closures. Since I am a faculty member at a primarily undergraduate institution, my undergraduate students are the heart of my lab and are critical to the success of my research. With regards to specific research, we have restarted our work looking at various zooplankton species interactions with phages/viruses. We also are about to scale up our work examining the impact of silver nanoparticles on zooplankton to a mesocosm level. It's always exciting to have experimental work progress from microcosm/batch scale to mesocosm scale and see how the kinetics change as we consider different variables and move closer to environmentally realistic conditions.
In your opinion, what are the most important questions to be asked/answered in this field of research?
Like many other scientists researching water technology, trying to improve water quality is a driving motivator behind all the research I do. Specific to my research focus, zooplankton are such critical species to natural treatment systems, but so little is known about their overall contributions to improving water quality and the effects of contaminants on their ability to filter feed. Ultimately, to effectively implement natural treatment systems, we need to be able to model and predict all the different factors that impact system performance. Often zooplankton grazing is excluded from inactivation and fate/transport models, so the mechanisms and the kinetics related to these filter feeders need to be elucidated.
What do you find most challenging about your research?
Balancing experimental specificity of working with a particular zooplankton species with broad applicability to the water treatment sector is a challenge we think about a lot. There is also the logistics of working with different biological species that can be challenging when it comes to maintaining cultures and dealing with culture crashes at the most inopportune moments.
In which upcoming conferences or events (online or in person) may our readers meet you?
I always look forward to attending AEESP and GRC Environmental Science: Water conferences. I also usually attend SETAC and ACS conferences.
How do you spend your spare time?
Right now, I have a 6-month-old so she is the focus of my time outside of work. I do still prioritize finding time to run in the woods almost every day and recently have tried to embrace New England winters by starting to cross country ski.
Which profession would you choose if you were not a scientist?
I always loved science so it is hard to imagine a different profession. I toyed with idea of being a veterinarian based on my love of animals so perhaps I would reconsider that option. Also, I could envision doing something related to running which I am extremely passionate about, but not sure what that would actually be.
Can you share one piece of career-related advice or wisdom with other early career scientists?
Give yourself time to get into a rhythm in lab and do not be discouraged if progress seems to be very slow (or non-existent). Also take the time to truly connect with your students and build a positive lab culture.